The act of preparing a private residence or commercial building for sale in the real estate marketplace
The goal of staging is to make a home or building appealing to the highest number of potential buyers, thereby selling a property more swiftly and for more money. UnderdownBall offers installations – staging services and techniques that focus on improving a property's appeal by transforming it into a welcoming, attractive product that anyone might want. Read more about INSTLLATIONS. Read post about INSTALLATIONS on What's Up In Elkin.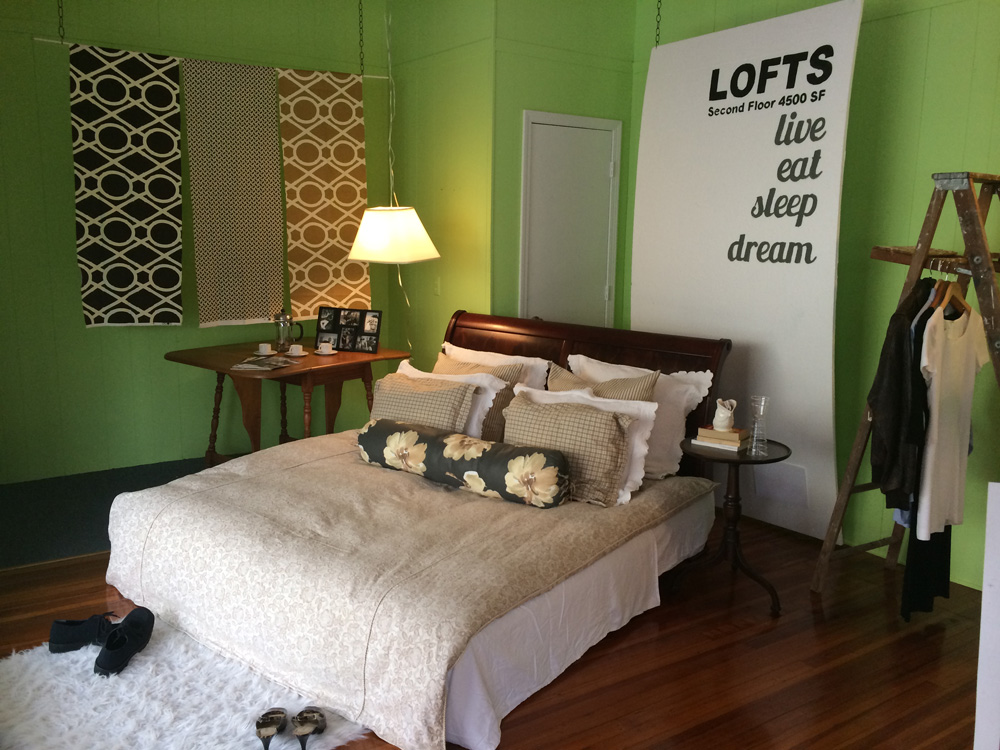 INSTALLATION at 240 STANDARD STREET
A few weeks ago I worked with Kim and Joe Seipel-Parks to create an exciting installation at 240 Standard Street – the future home of the new Yadkin Valley Community School yadkinvalleycommunityschool.org. This independent school strives to provide an outstanding learning environment within small multi-age classrooms for children in grades Kindergarten through Sixth.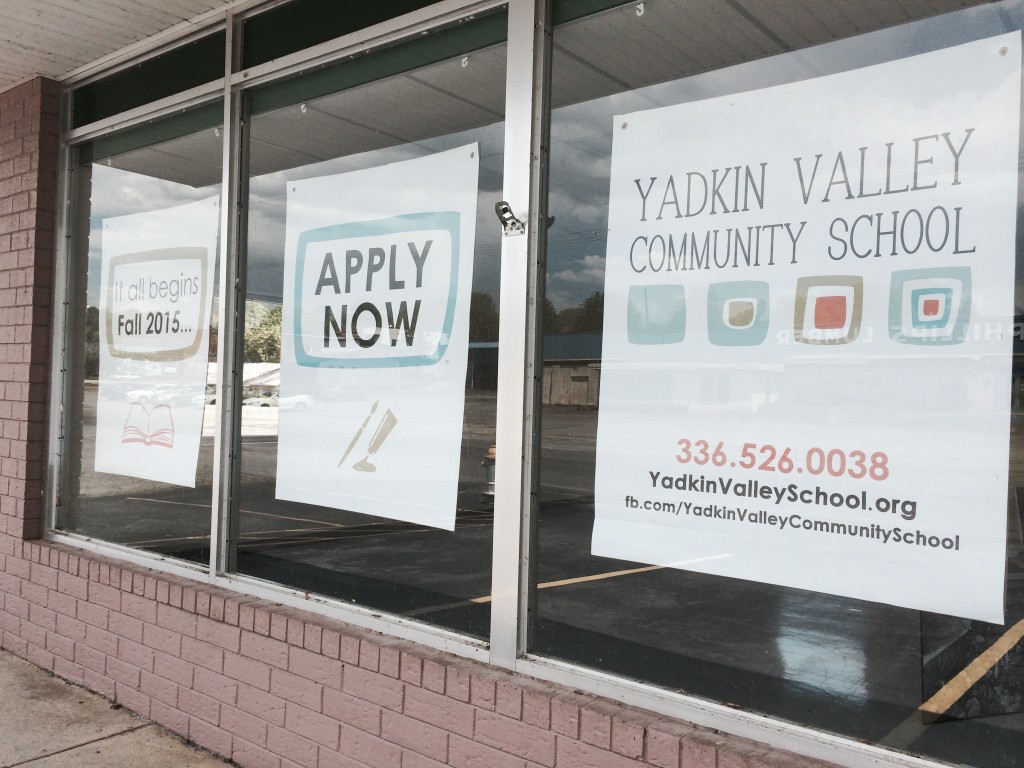 We treated the large windows that span the front of the building like a billboard to communicate key messages about the school:  The name and logo, K-6 Elementary School, Montessori-Inspired Hands-On Education, Class Begins Fall 2015 and Apply Now.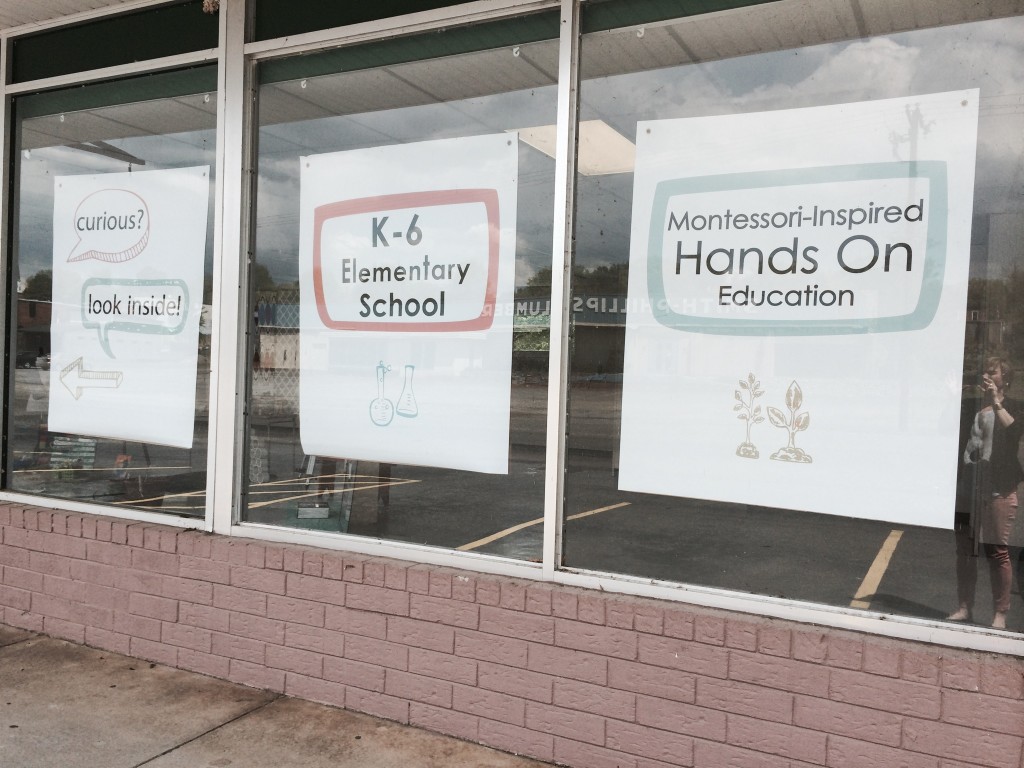 One sign encourages passer-byers to come closer and take a look inside, where the fun really begins. This building is bright, light and wide open making it the perfect backdrop for an inspired learning environment. Kim and I got to work and created vignettes from things we found in our basements, attics, garages, kids' rooms and offices to represent various areas of learning, including math, computers, art, science, biology, reading, history, music…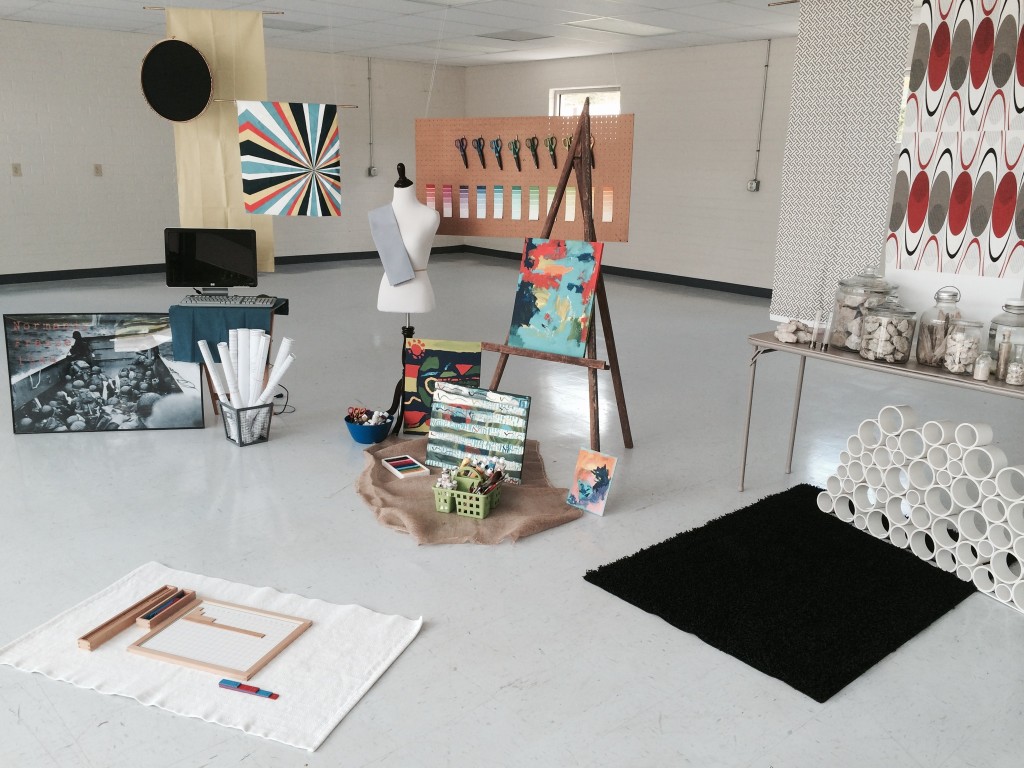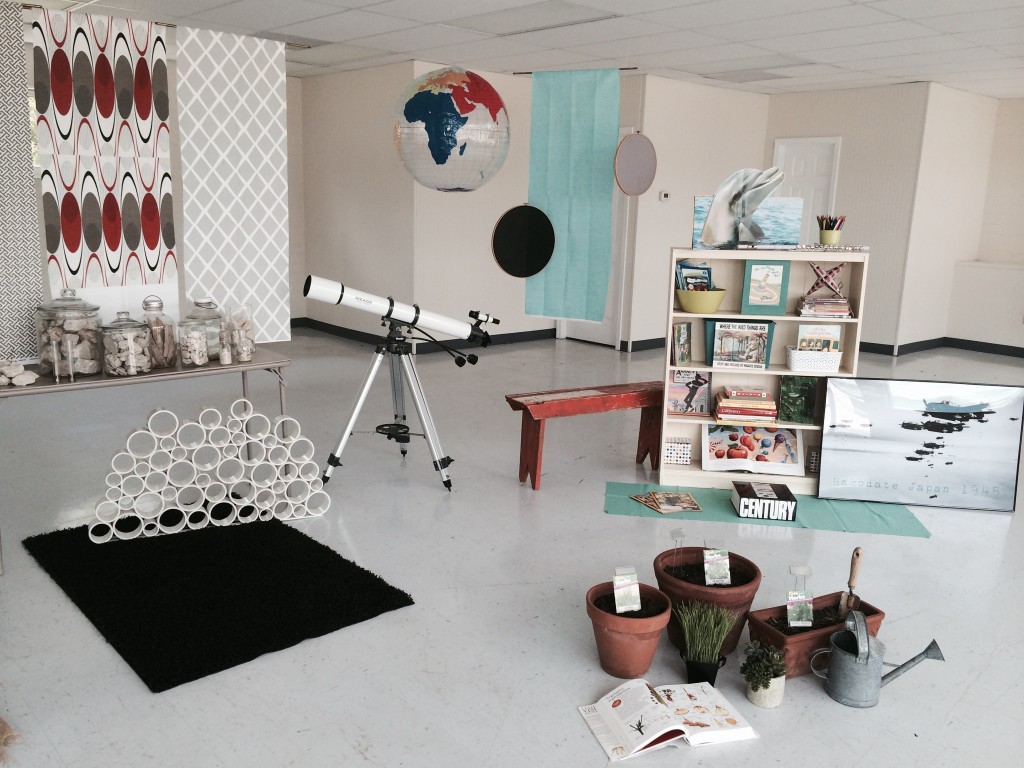 'Makes me want to go back to school. Well, almost…
STAGED: 449 WEST MAIN STREET | JONESVILLE
The house at 449 West Main Street in Jonesville is now staged and feels more like a home. Each room features small vignettes to give buyers an idea of what the rooms could look like once decorated. The furniture and décor give a little life to each room and seem to warm the space. The cost for this installation = $25 for one queen size air mattress (minus time and gas). The rest of the materials were borrowed from my sister, my mom, a few friends and myself…a great way to clean out closets, basements and attics. This three bedroom, two bath home was originally listed at $128,000 and now has been reduced to $122,000. It's just one of the houses in the Parade of Homes taking place this Sunday from 2-4 p.m. Drop by during the open house – take a look around, sip lemonade and have a cupcake.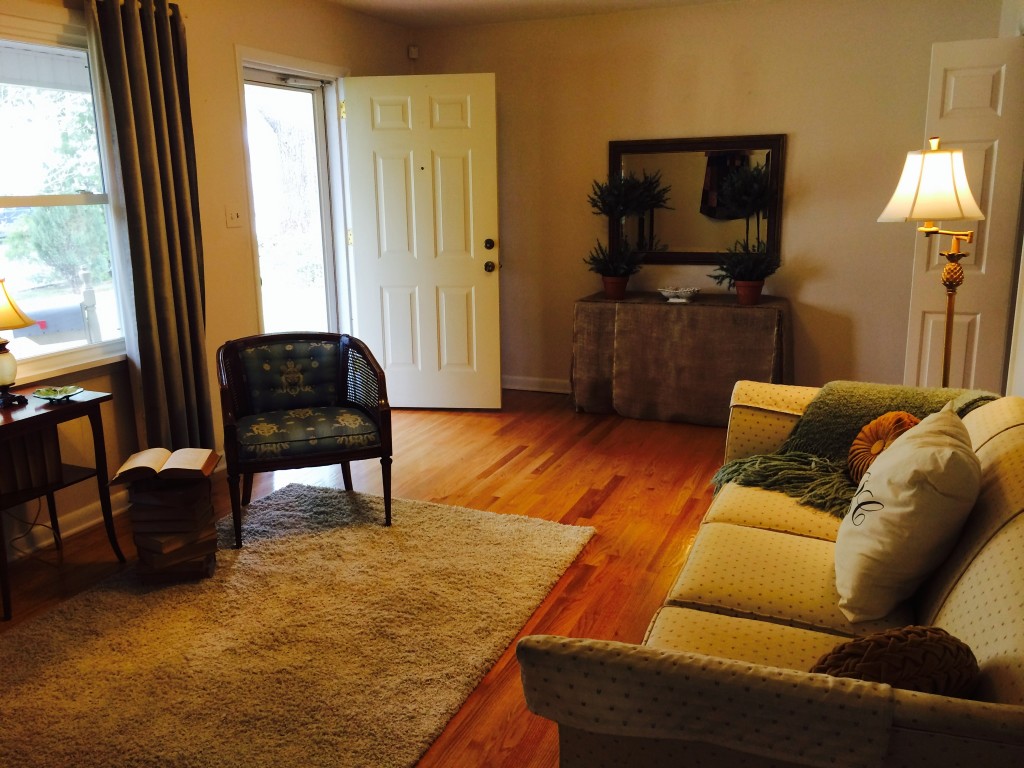 Living Room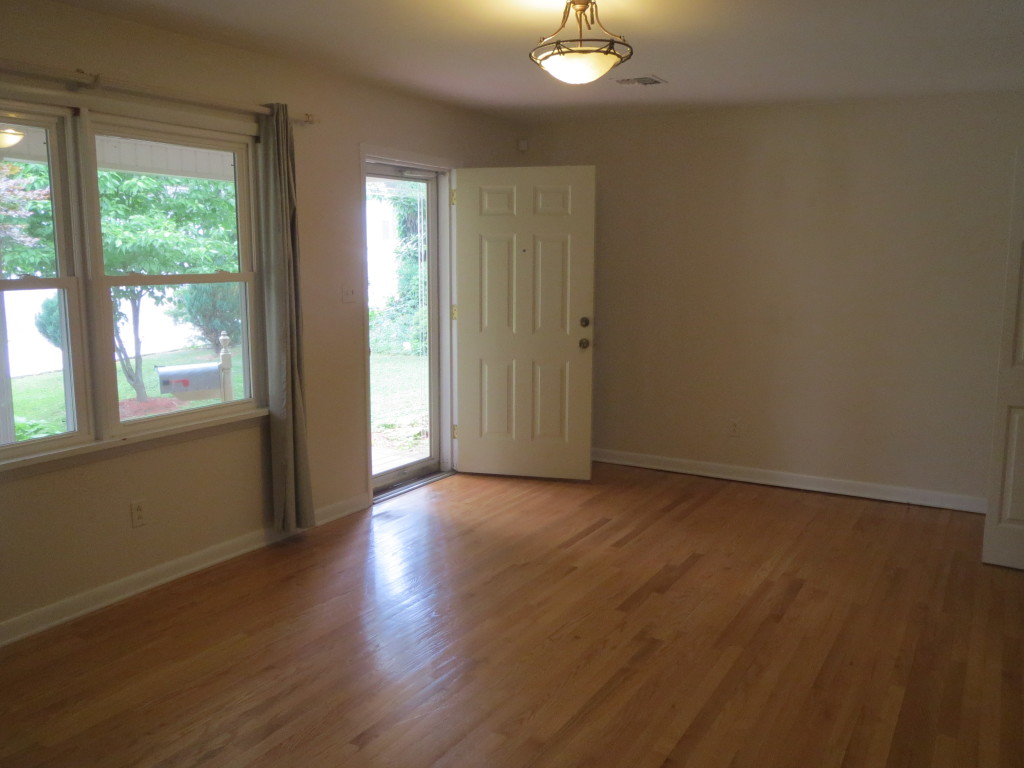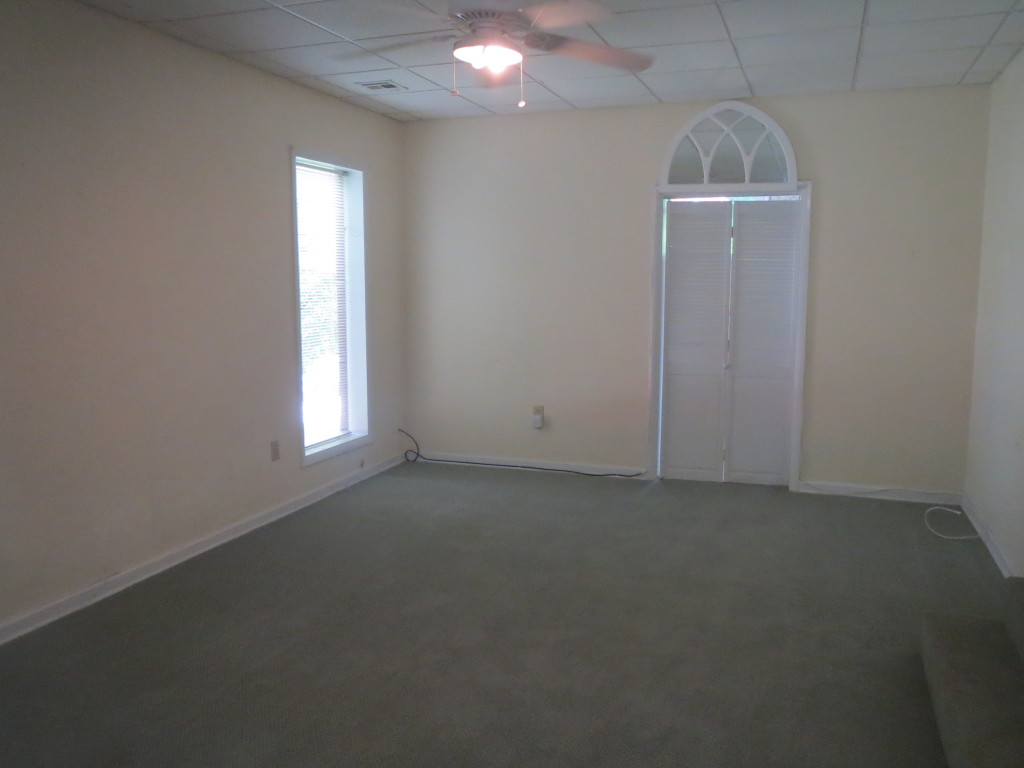 Den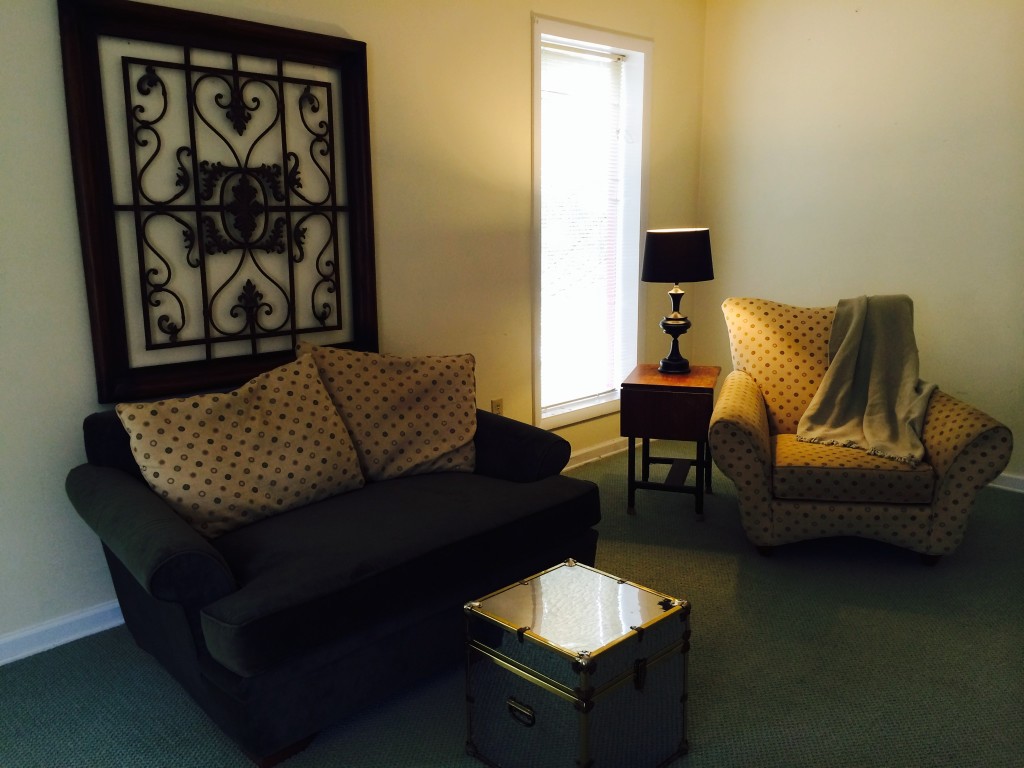 Sun porch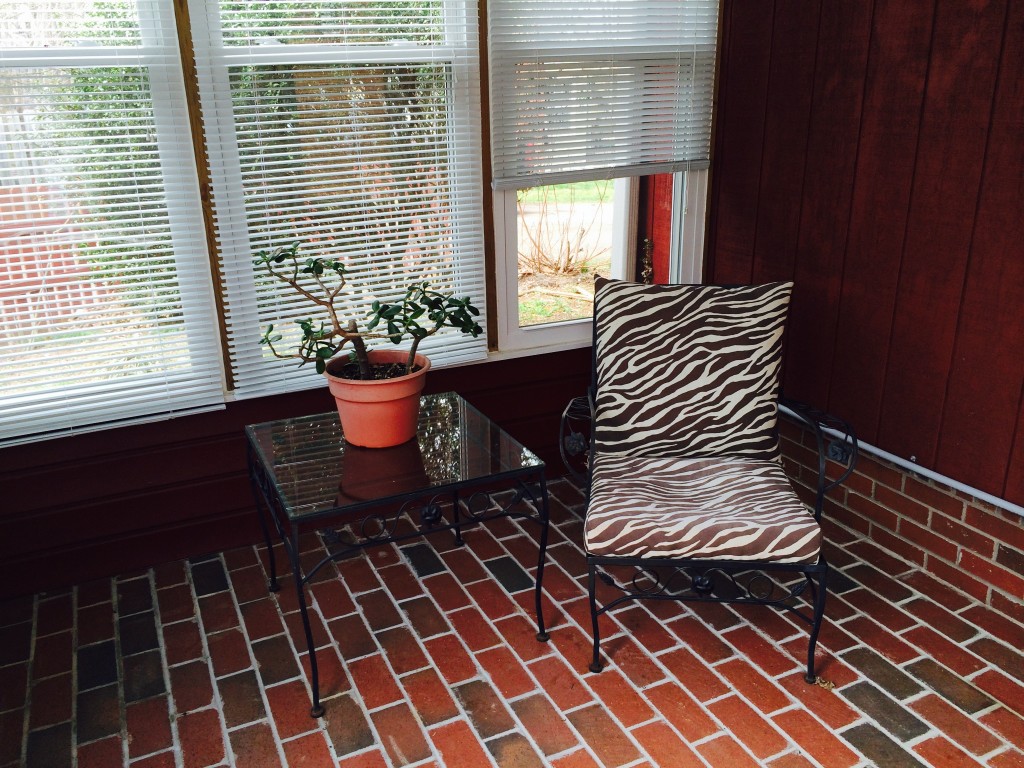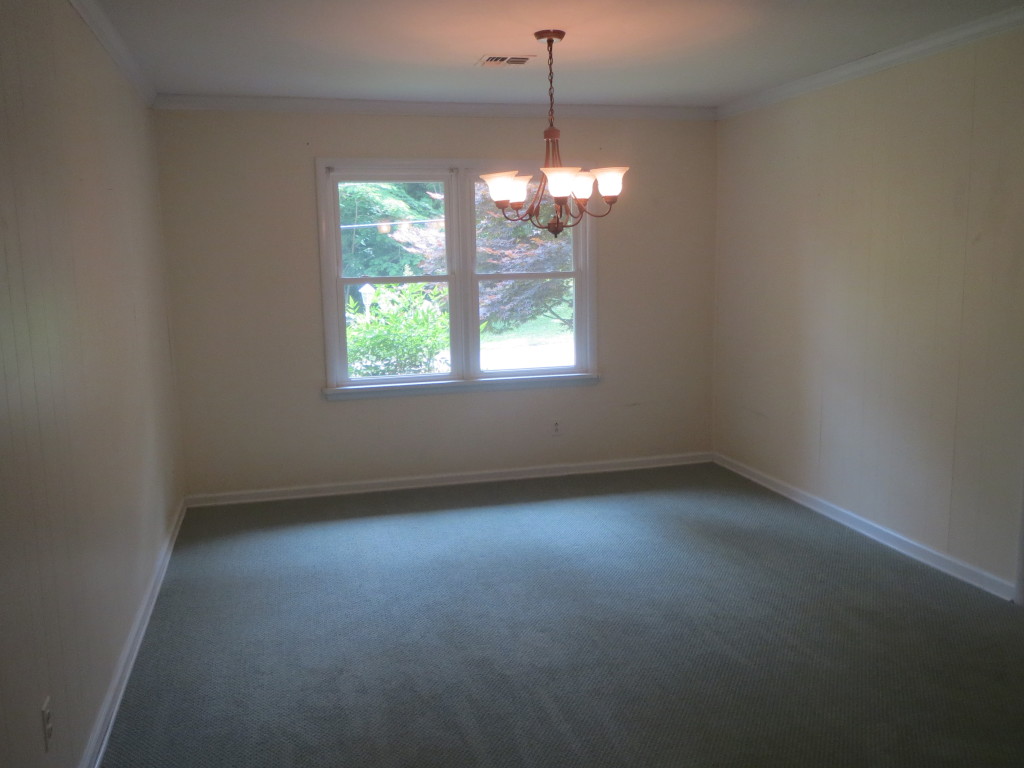 Dining Room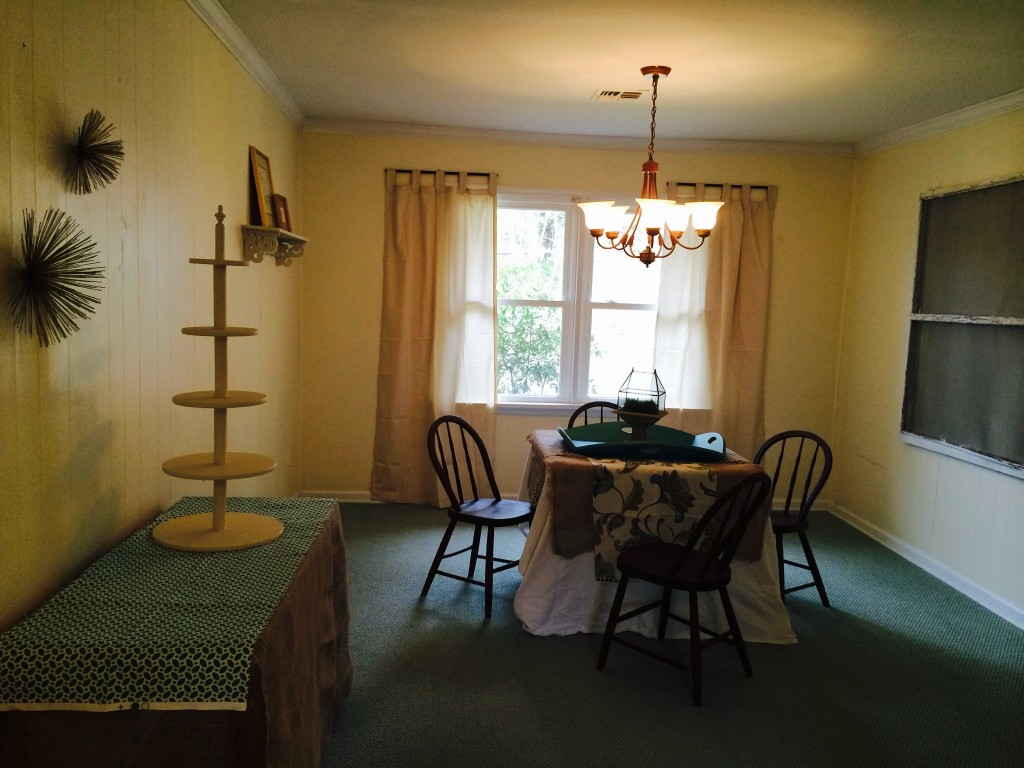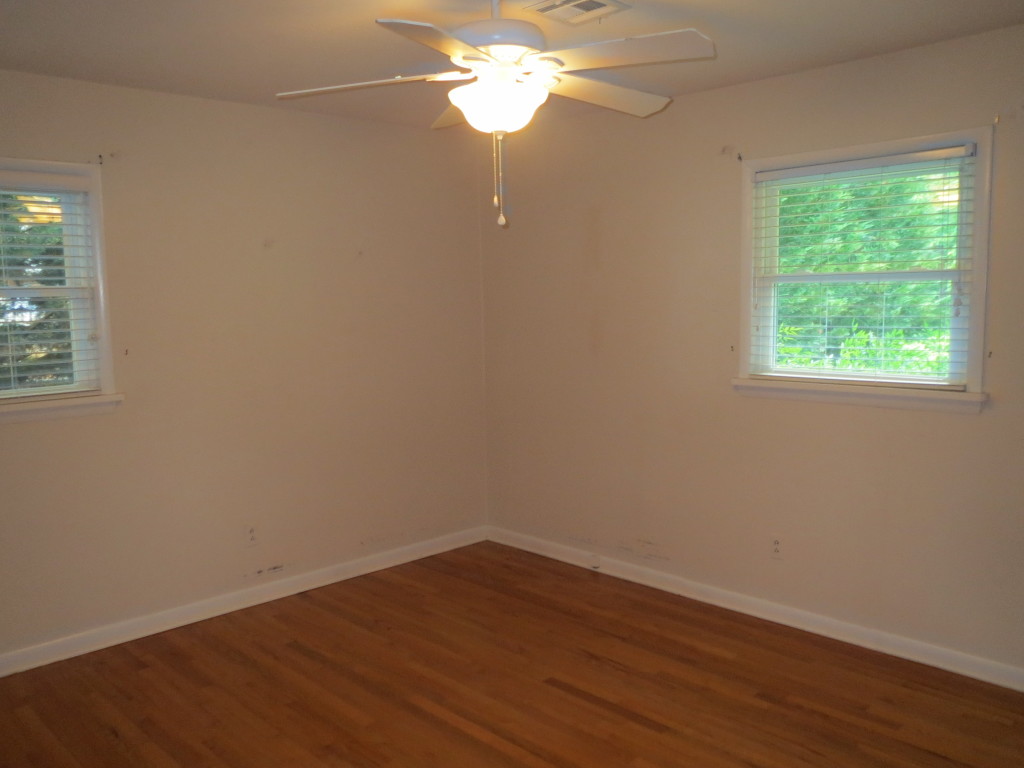 Master Bedroom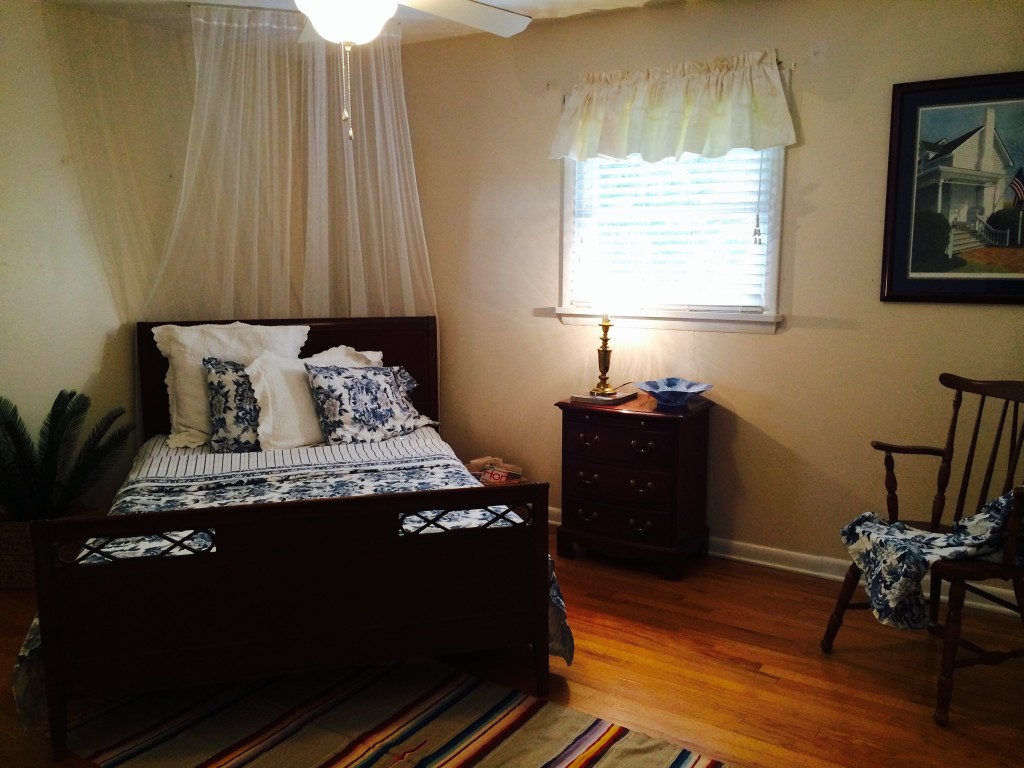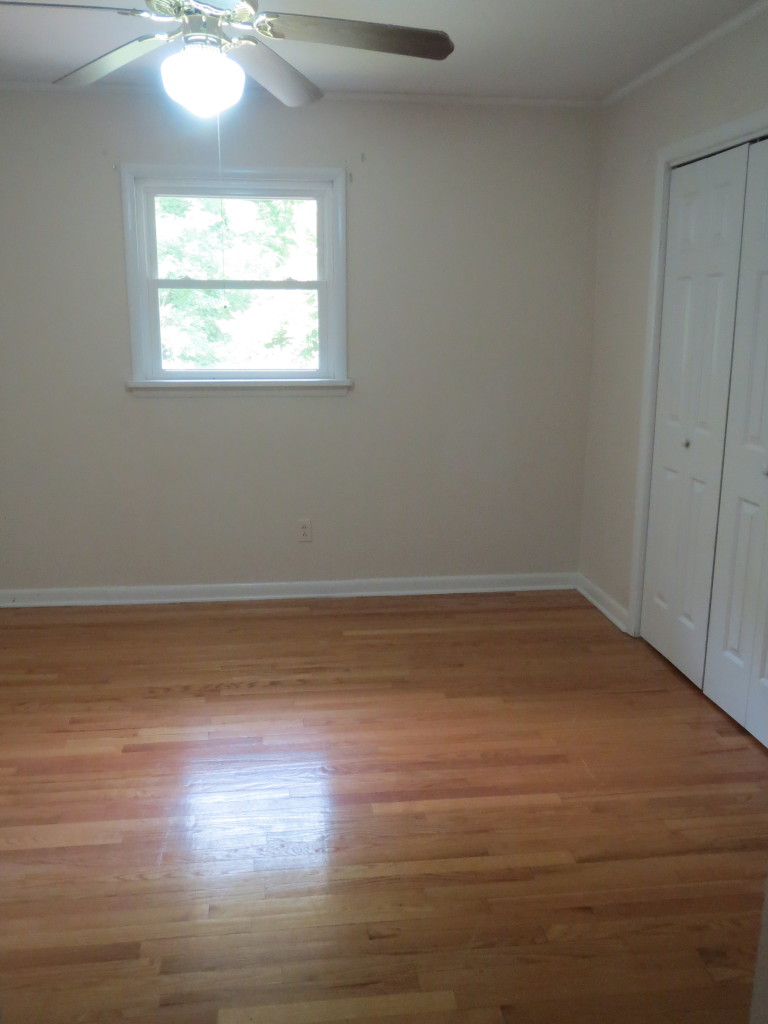 Bedroom 2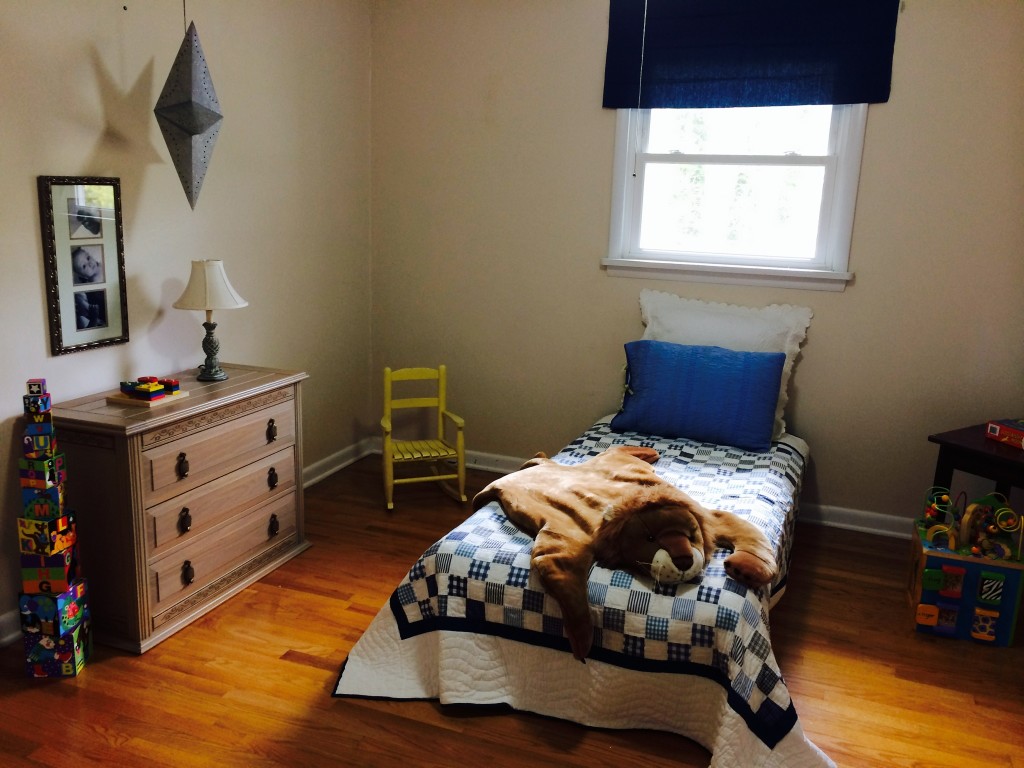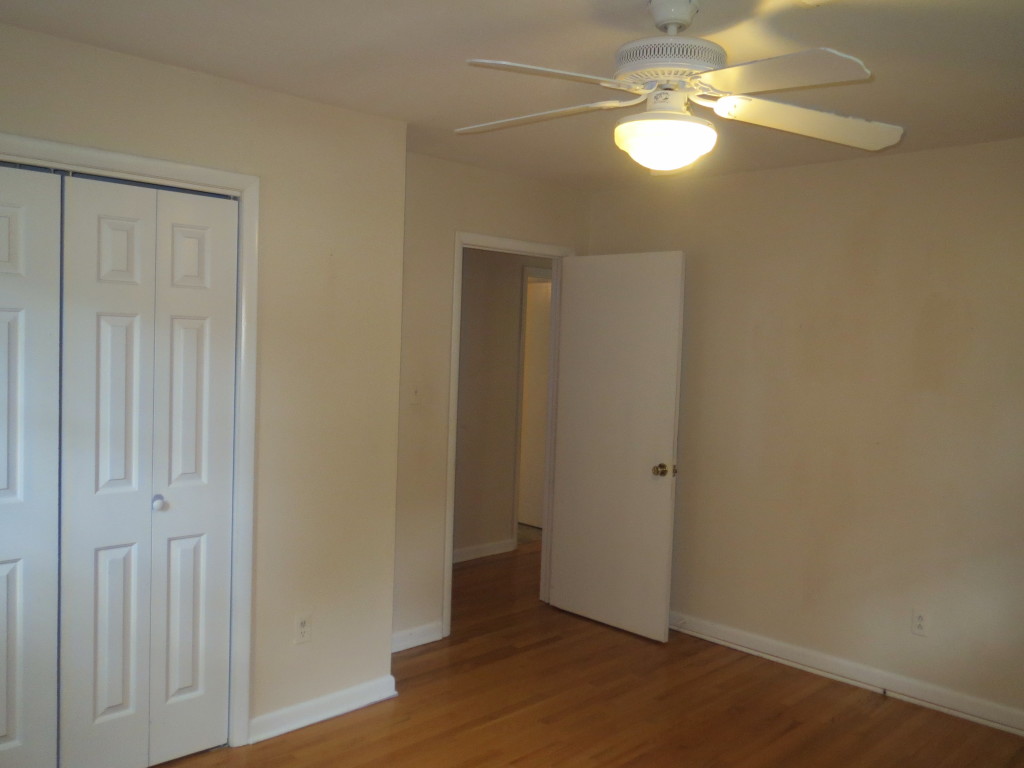 Bedroom Three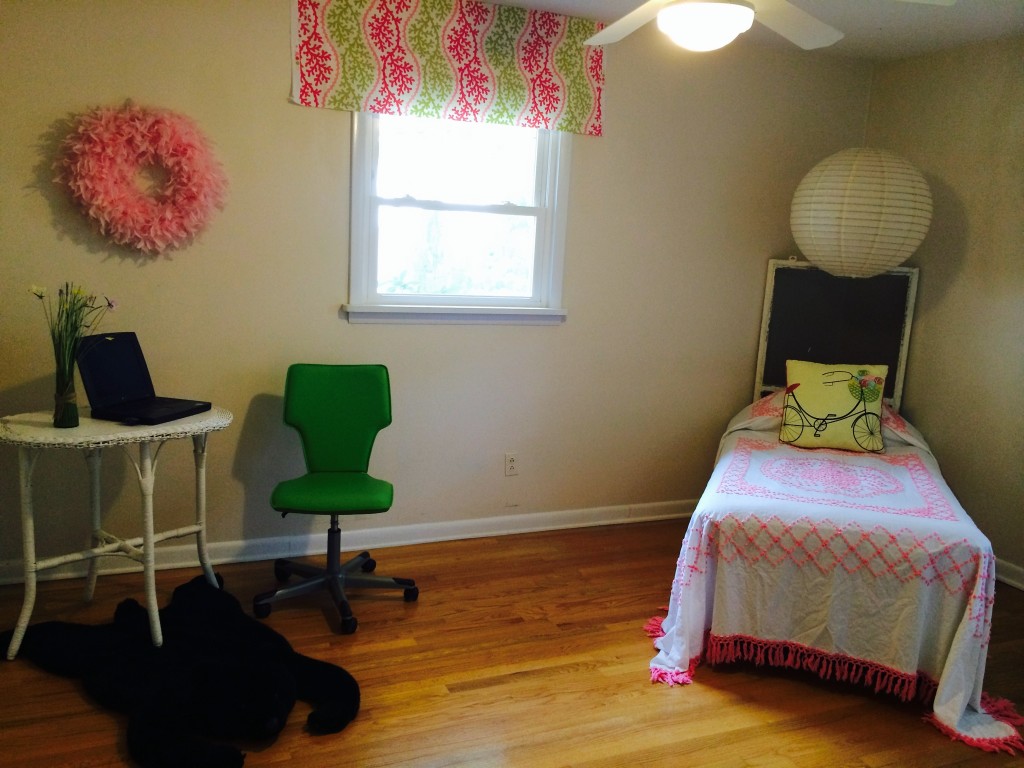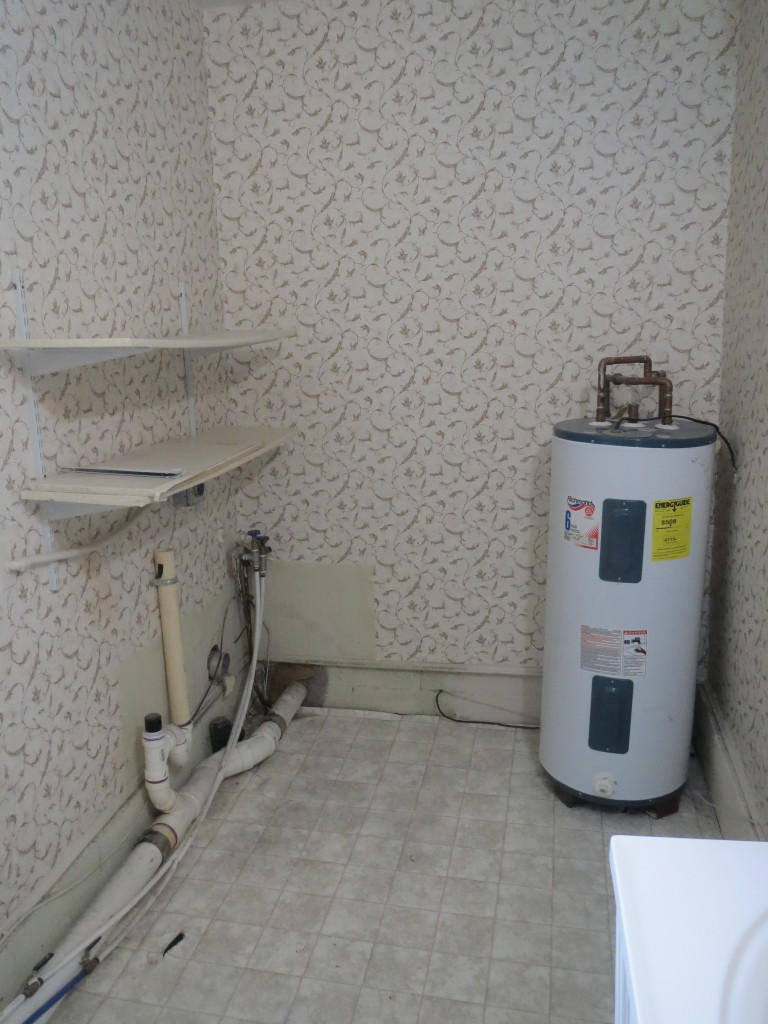 Laundry Room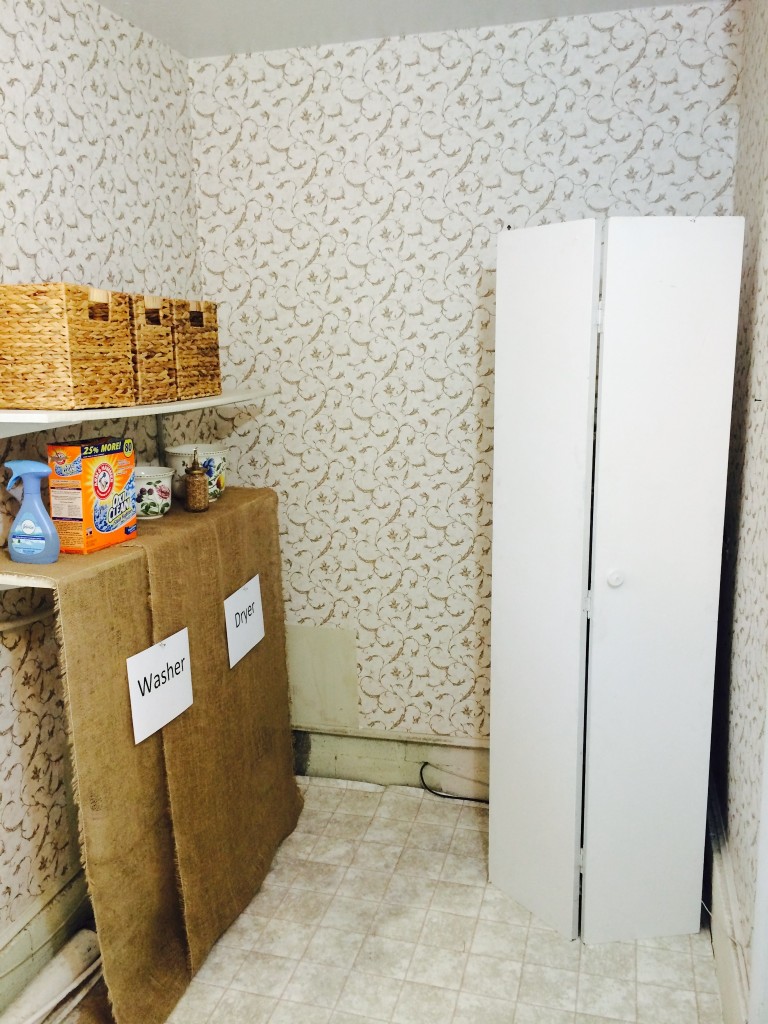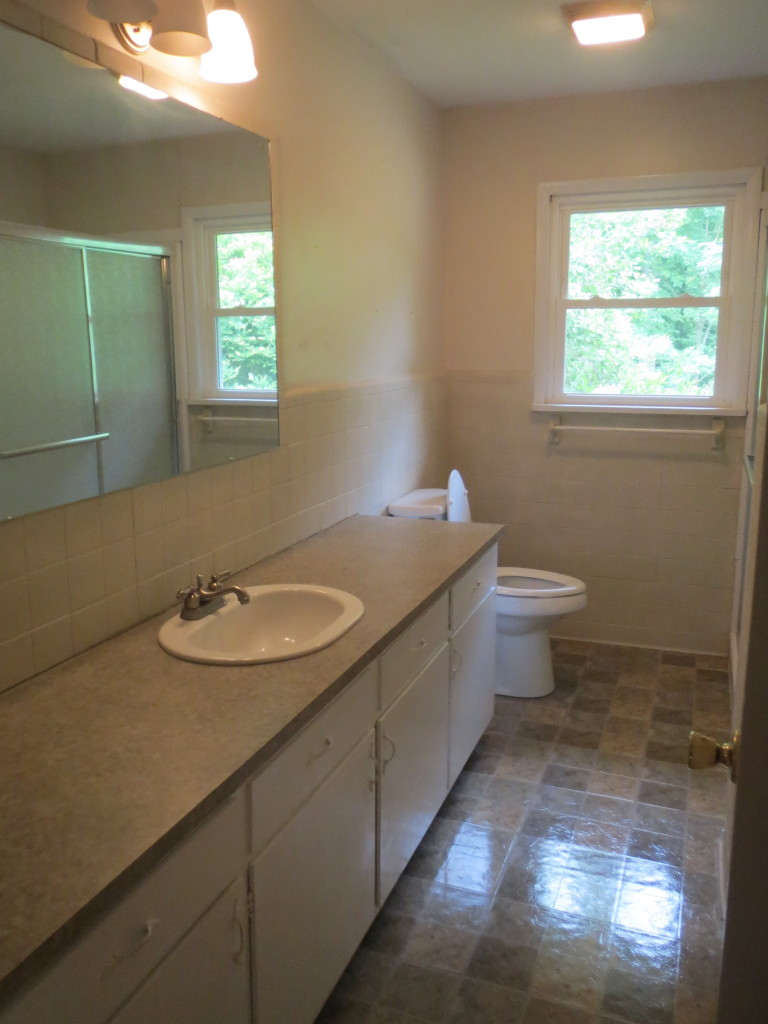 Bathroom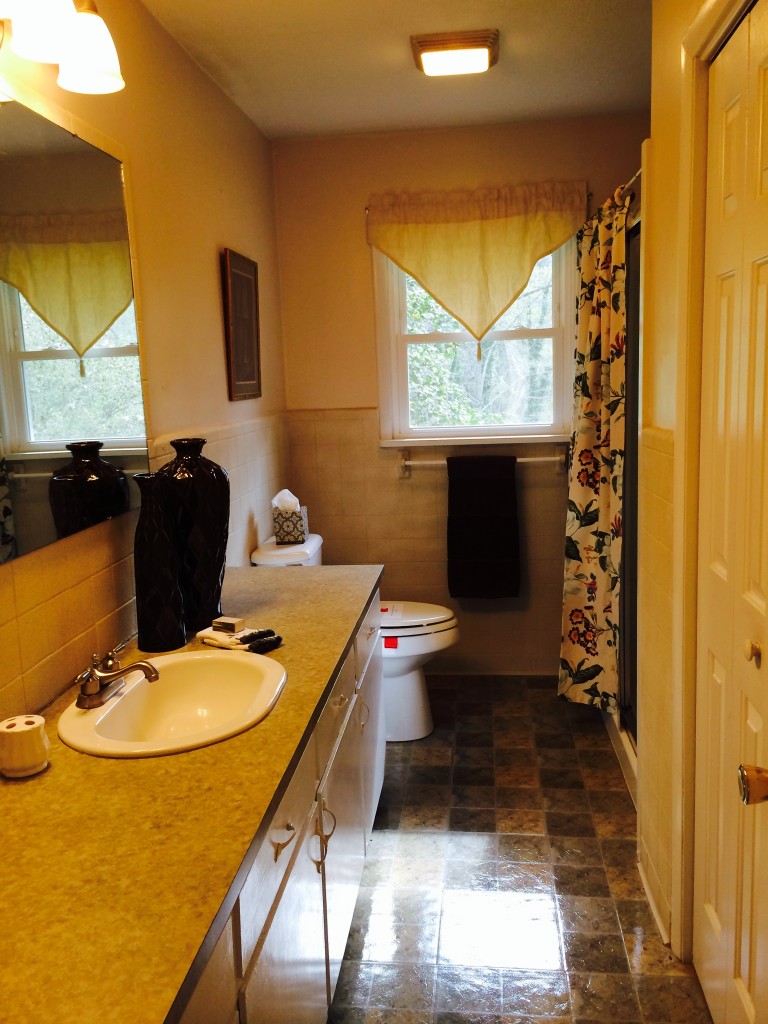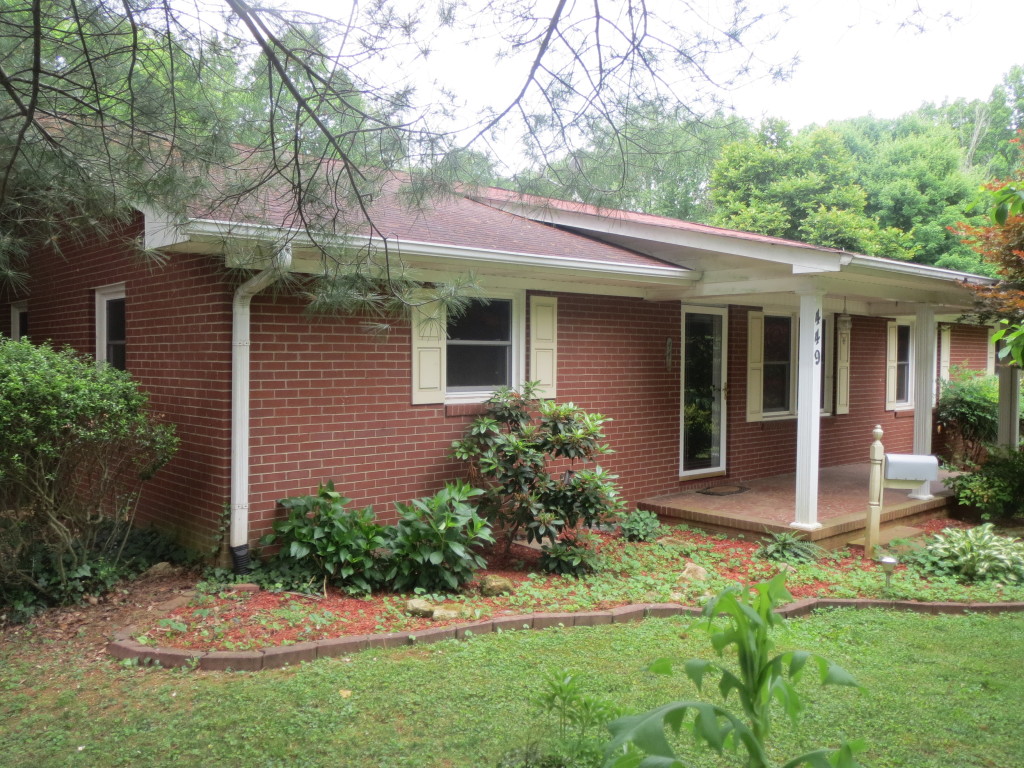 I'D MAKE A GREAT…ART GALLERY/COFFEE SHOP
The windows of 105 West Main Street now feature two scenes from the "I'd make a great…" series.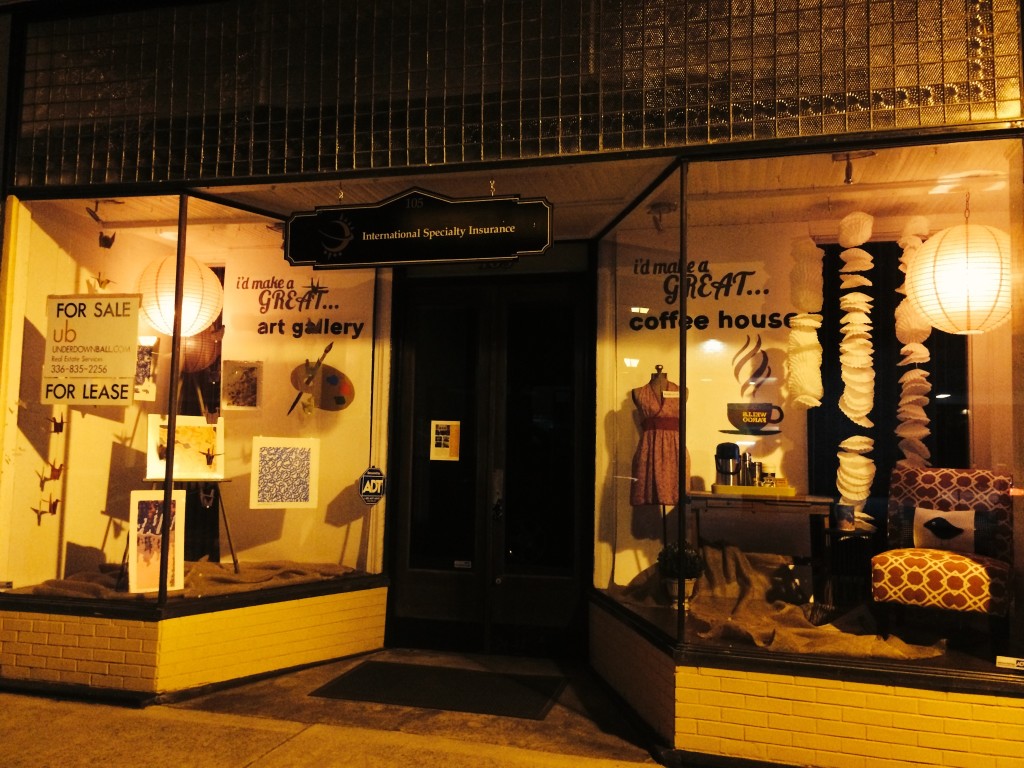 The left side features: "I'd make a great…art gallery," and is decorated with a collection of brightly colored prints and hanging strands of origami cranes.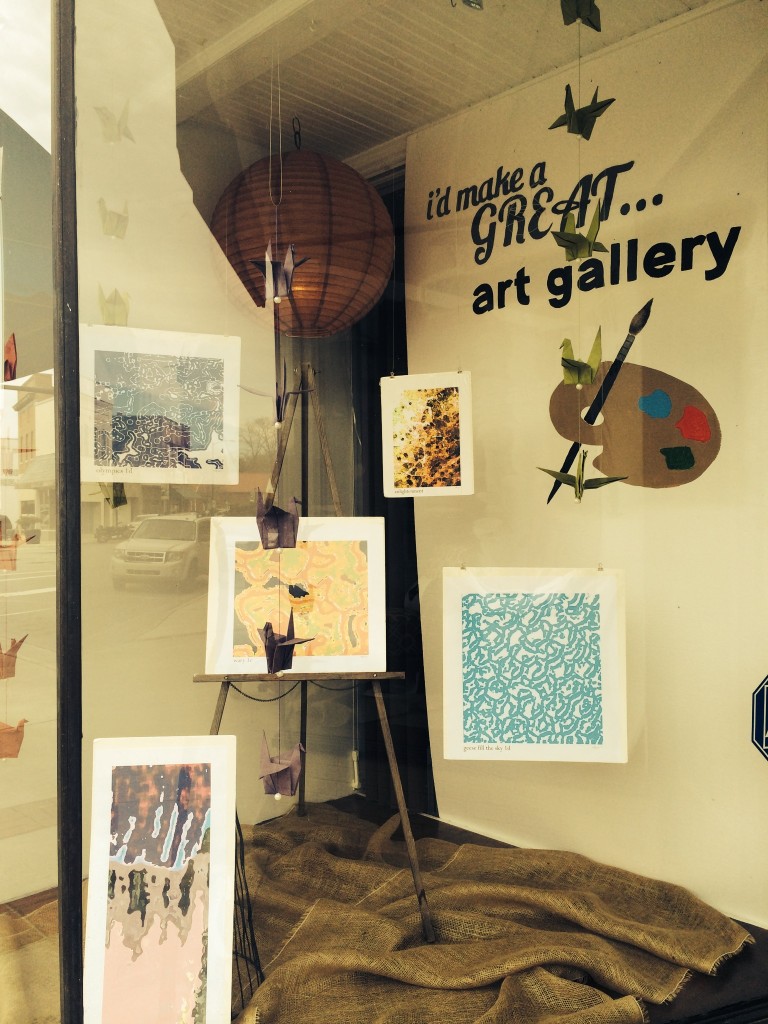 The right side features: "I'd make a great…coffeehouse," and is decorated with items one might find in a coffee shop…a dress form with apron and "barista" name tag; a serving station for cream, sugar and the likes; a comfy chair where one might sip coffee or tea while reading the paper, checking messages or sending the daily tweet.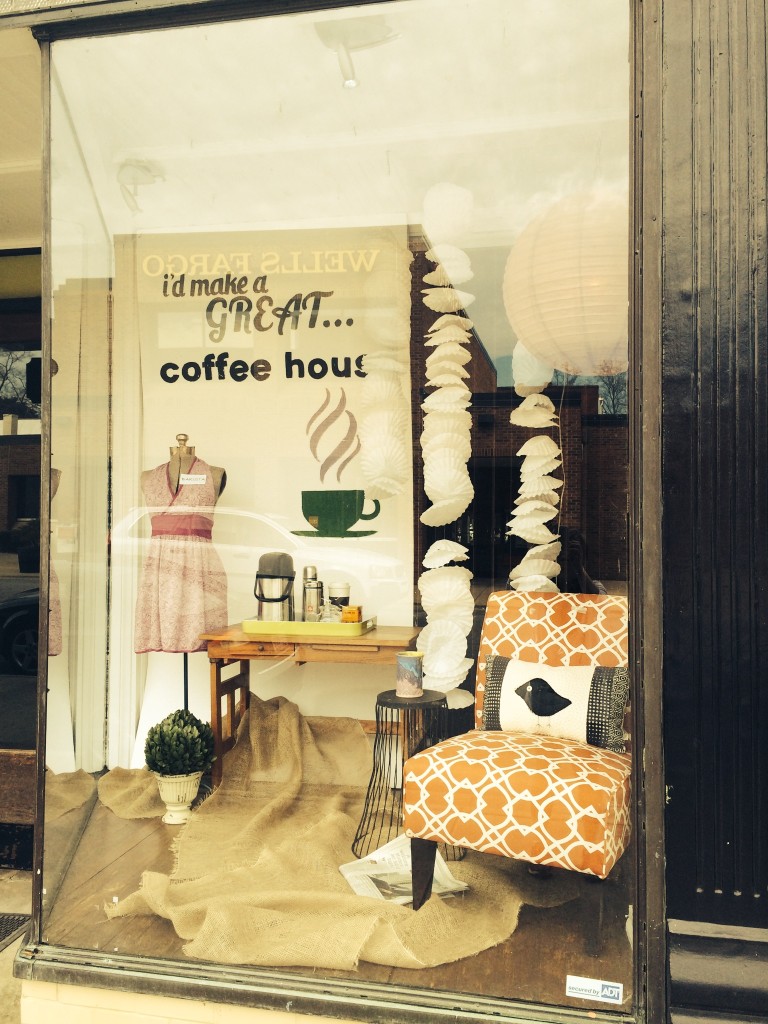 This building is quite ideal for most any commercial use – business or retail. This fully refurbished and well maintained building is for sale with a price of $299,000. The main level measures 2,840 square feet and features hardwood floors, 14 foot ceilings, a large open common area, conference room, kitchen, full bath and basement. On the second level you'll find two furnished income-producing lofts. Both feature open floor plans, hardwood floors, exposed brick walls, full bath, kitchen and a shared laundry room area. The front loft overlooks Main Street, and the back loft overlooks Depot Street and has a deck.
The main level is also available for lease at $1,300 a month.
It's a fine locale for your next business venture in the heart of historic downtown Elkin.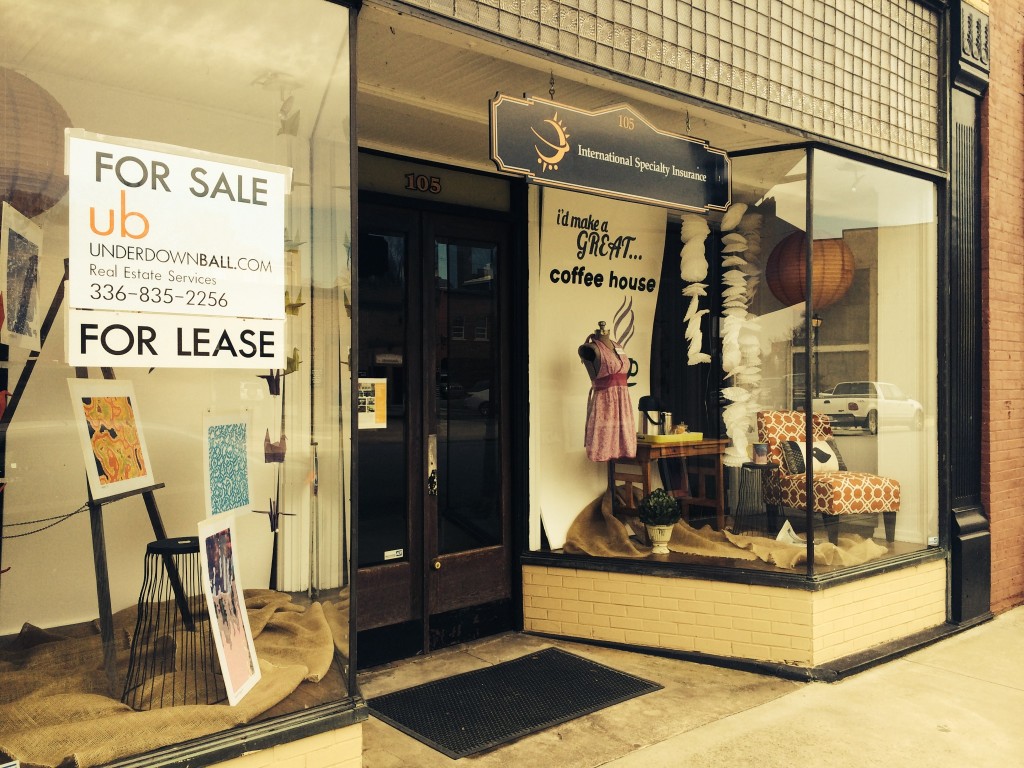 I'D MAKE A GREAT…GET AWAY OR STUDIO
INSTALLATIONS recently staged 231 West Main Street – a historic building in downtown Elkin, which is currently for sale with a listing price of $69,900. The building is quaint and small in size, making it one of the most scenic on Main Street. It may also be the most versatile because it can be used as a commercial or residential property (with a conditional use permit from the Town). As such, it's staged for both.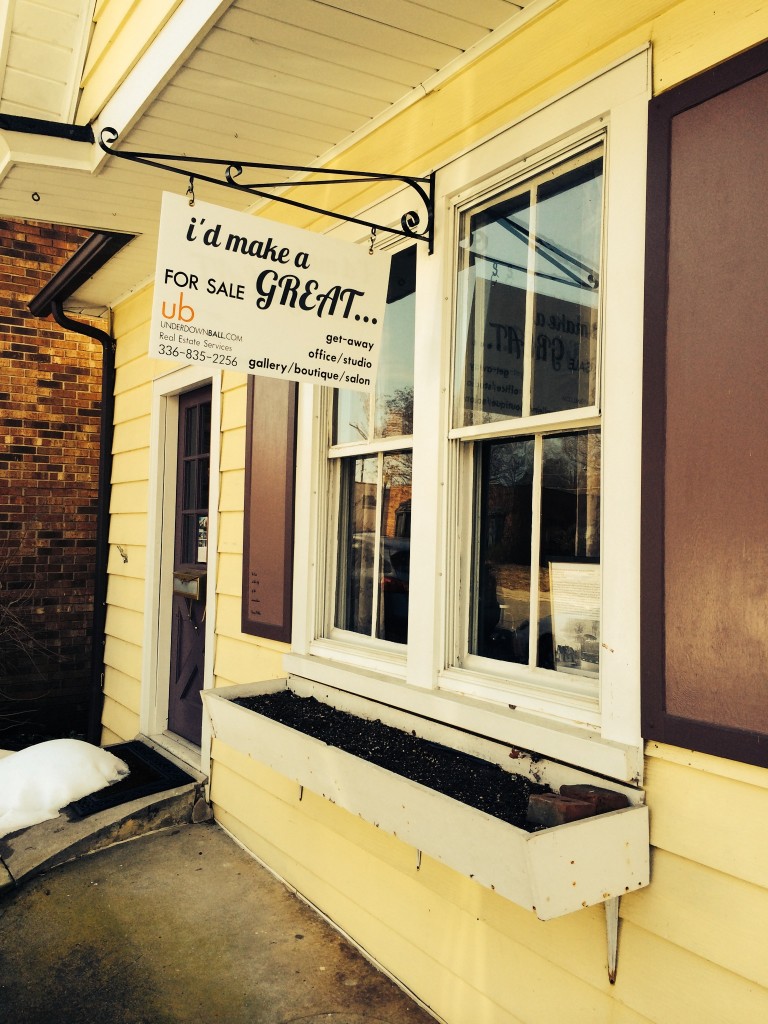 Pulling from family resources and friends for furniture and accessories to keep costs low, one side of the building is staged as a residential get-away – a second home or vacation rental for visitors touring the Yadkin Valley wineries and hiking the Sea to Rails Trails. Located in the heart of downtown, it's also within walking distance to many restaurants and shops, the Elkin Public Library, Big Elkin Creek, the park (with track, tennis courts, ball fields, pool and two playgrounds), the Foothills Arts Council, the Farmer's Market and more. The space features an entry way with coat rack, reading nook, closet, sleeping quarters and dining or gaming table area.
Before
After – Entry way with coat rack and reading nook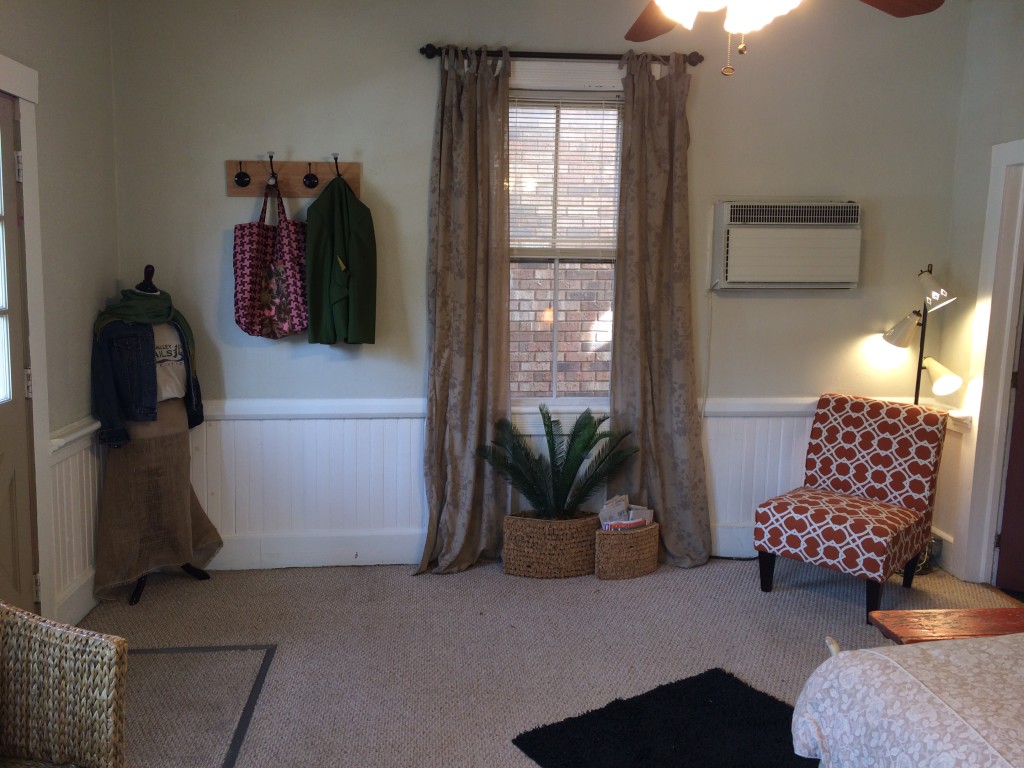 Before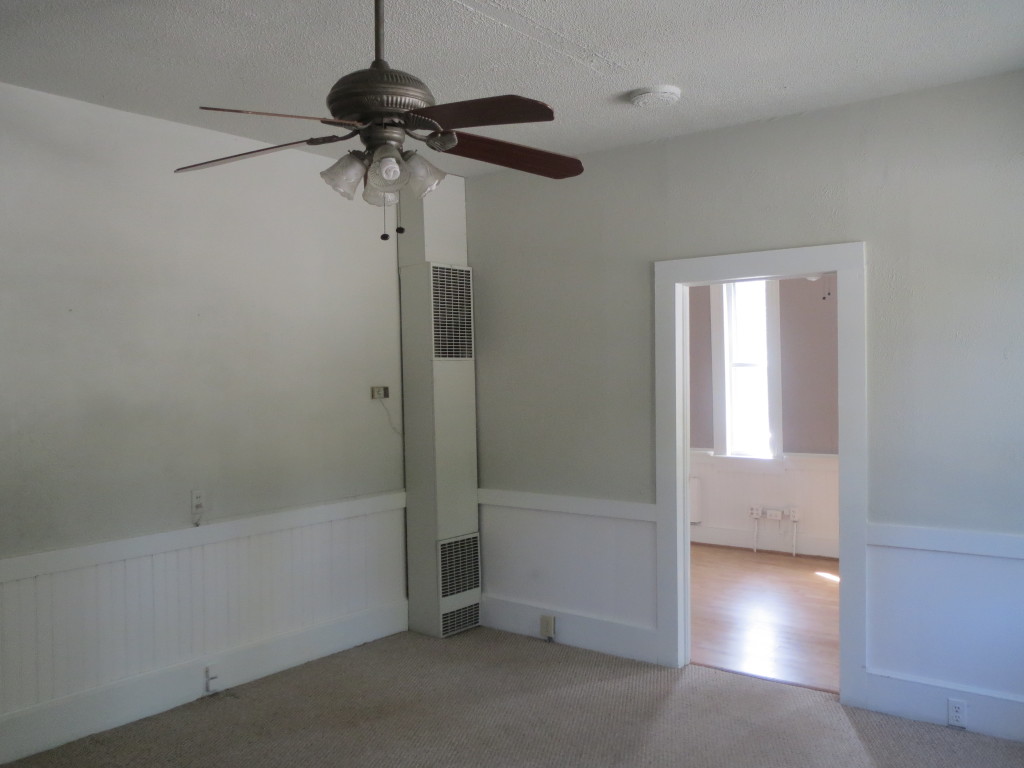 After – Sleeping Quarters and Dining/Game Table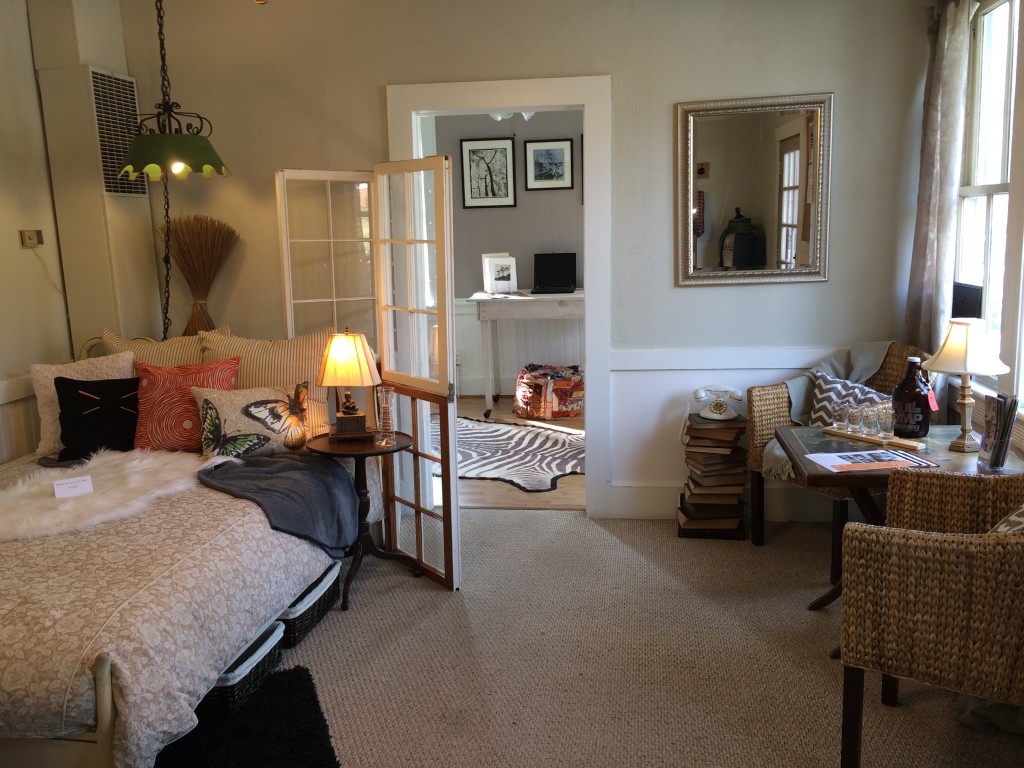 Before – Hot water heater closet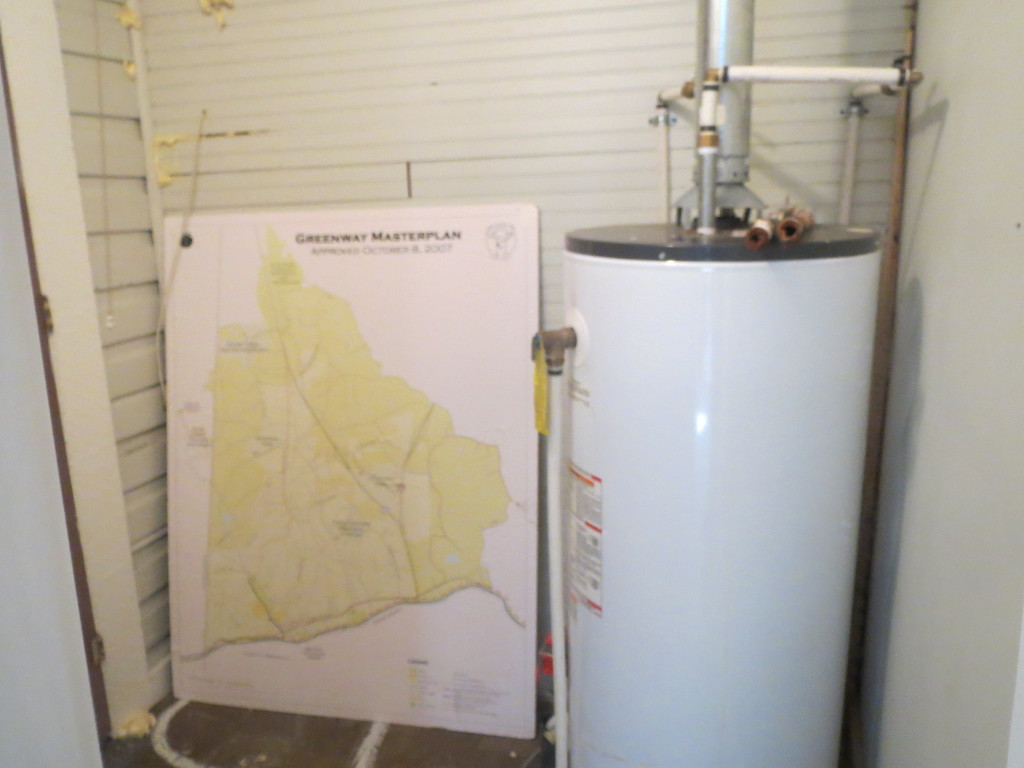 After – Clothes closet with hot water heater tucked behind a screen.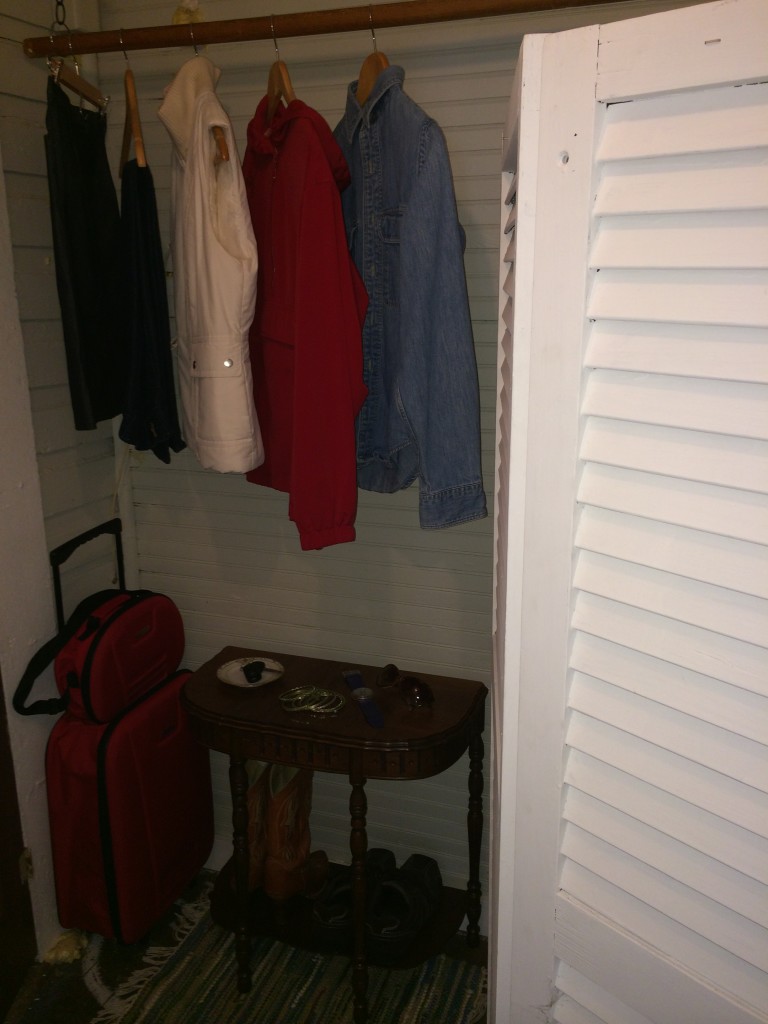 The other side of the building is staged as a commercial property – an office or retail space. This side currently features a gallery with artwork by Erik Dahlager and a work table/desk. It's a prime location for business people needing access to national and local banks, lawyers, insurance and other synergistic companies, the post office, etc. Being located right on Main Street, the building gets foot traffic which is important for any retail space, such as a shop, gallery, boutique or salon. It also features parking behind the building and on main street.
Before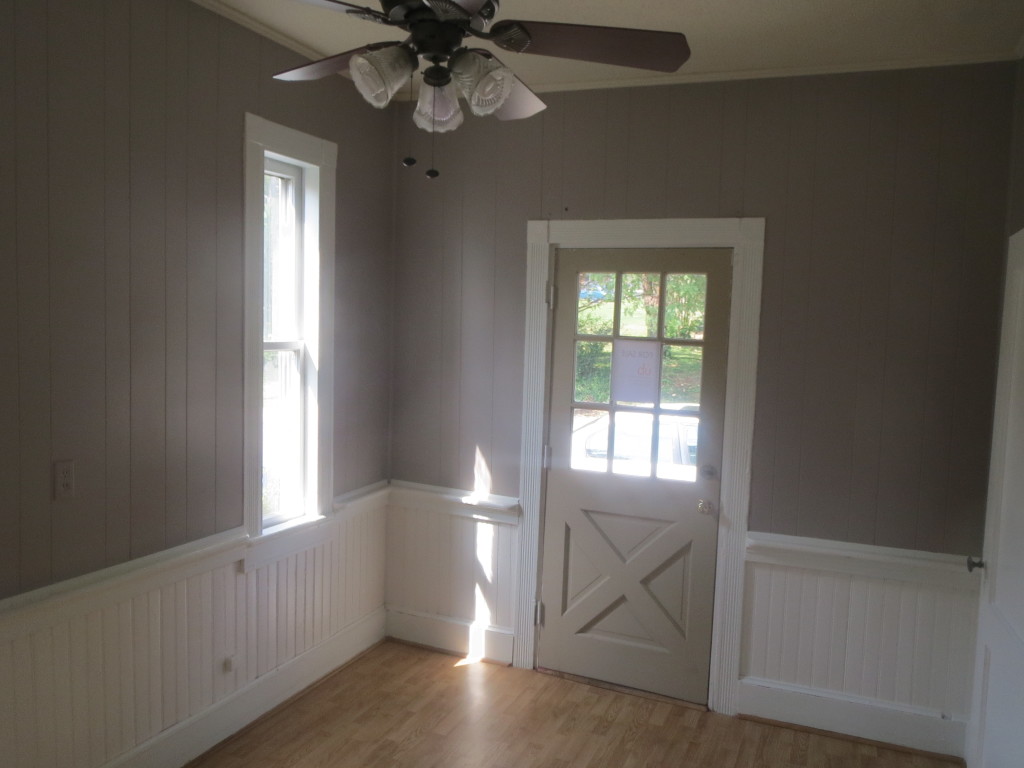 After – Office, Studio, Gallery or Retail Space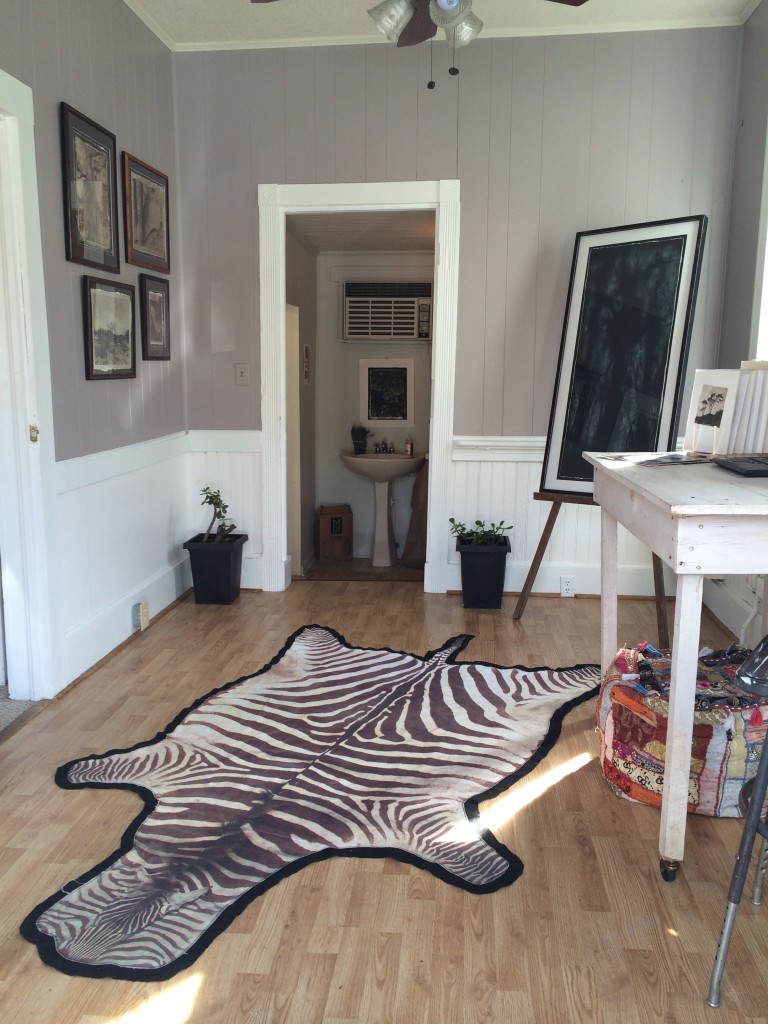 After – Office, Studio, Gallery or Retail Space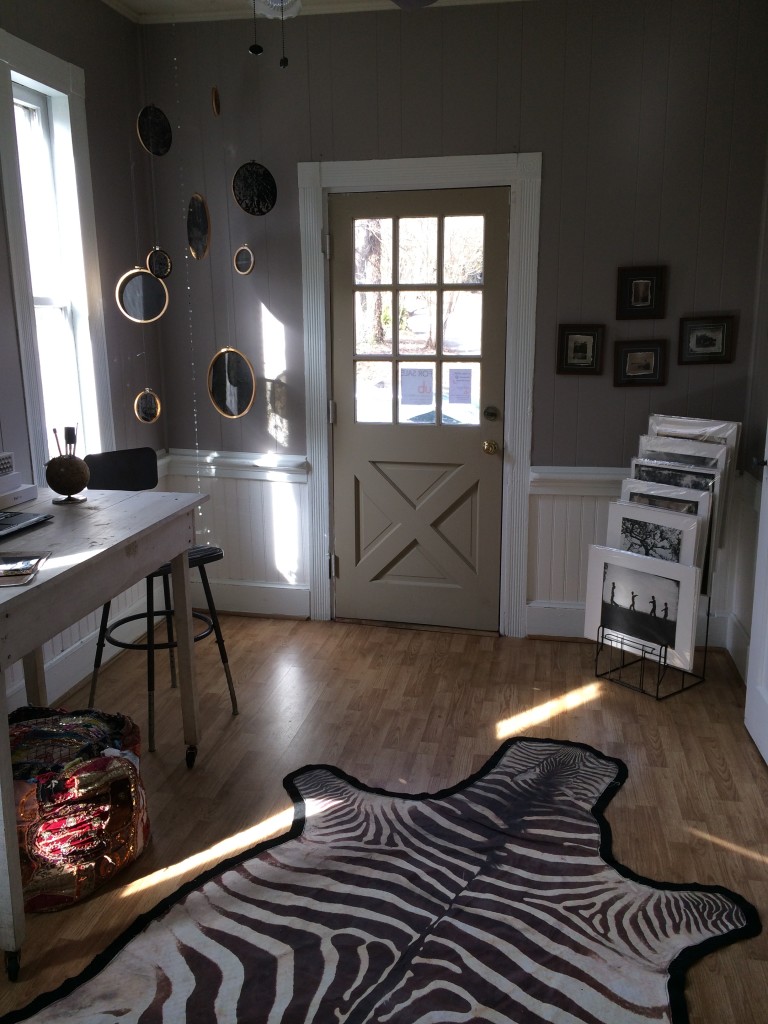 The back side of the building features multiple useful areas. The first being a laundry room that could also be upfitted for a small kitchenette area by adding a small refrigerator, microwave, toaster oven, etc. The second area is a separate full bath and a walk-through closet that opens back up to the main living area.
Before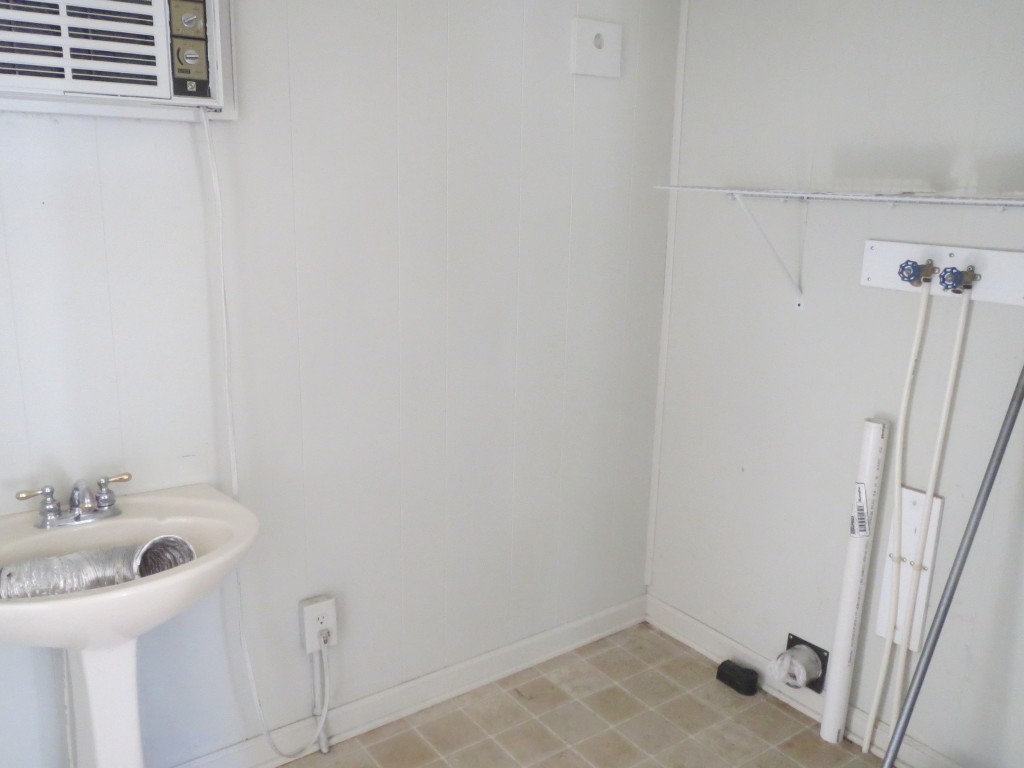 After – Kitchenette Area and/or Laundry Room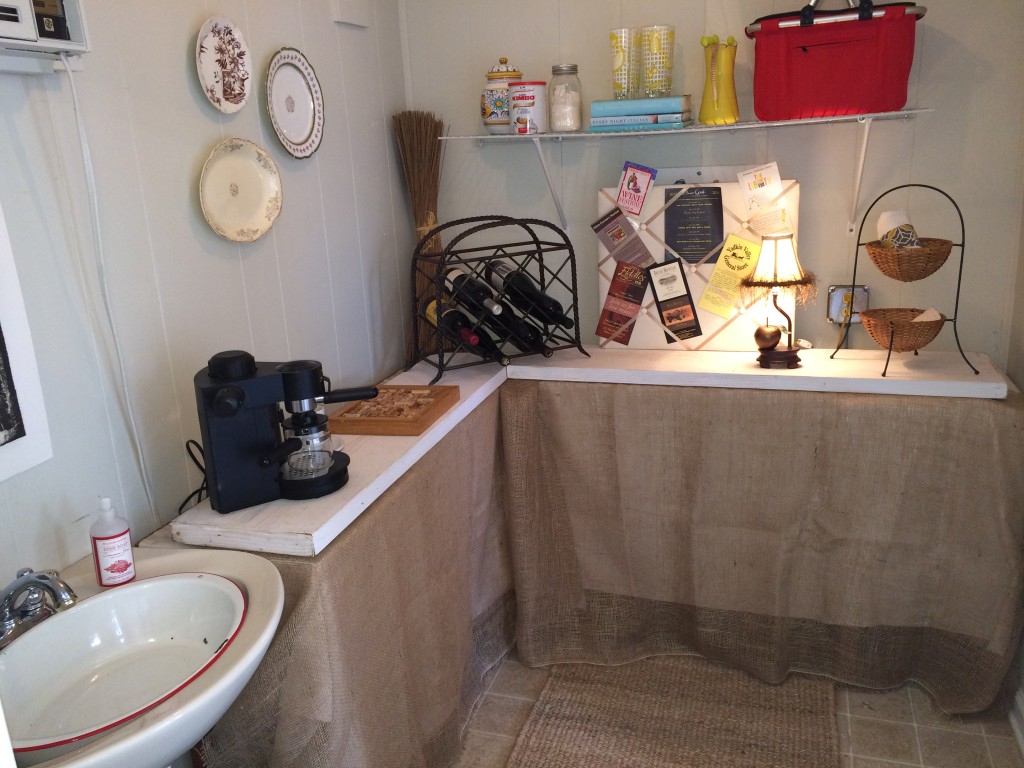 Before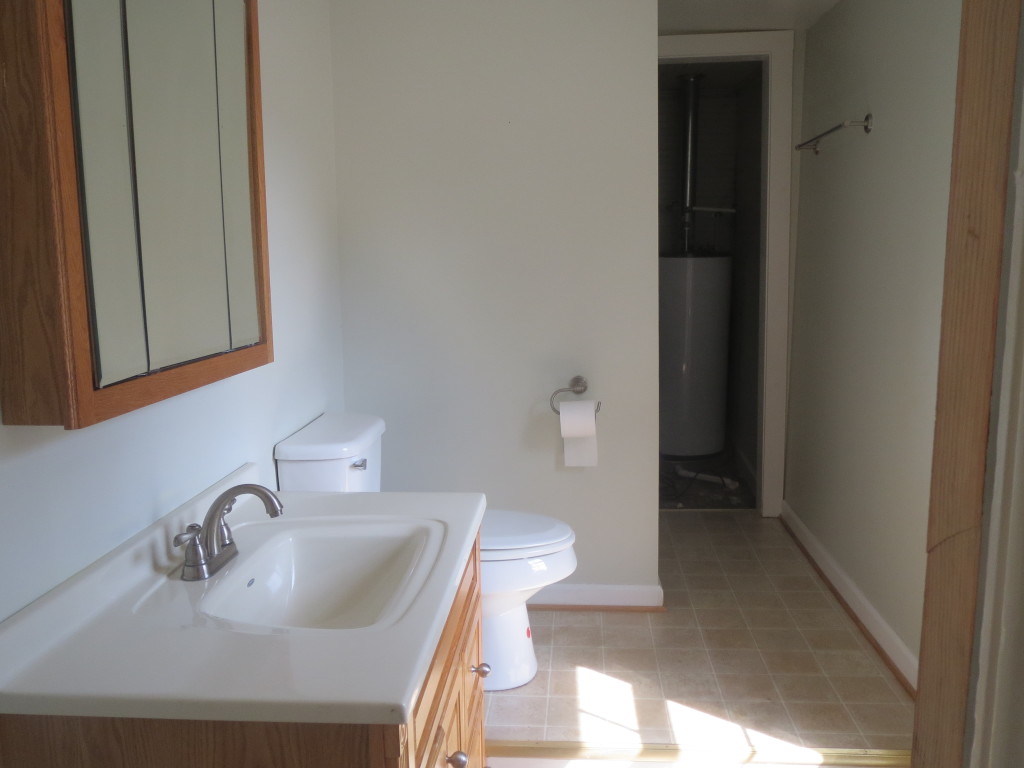 After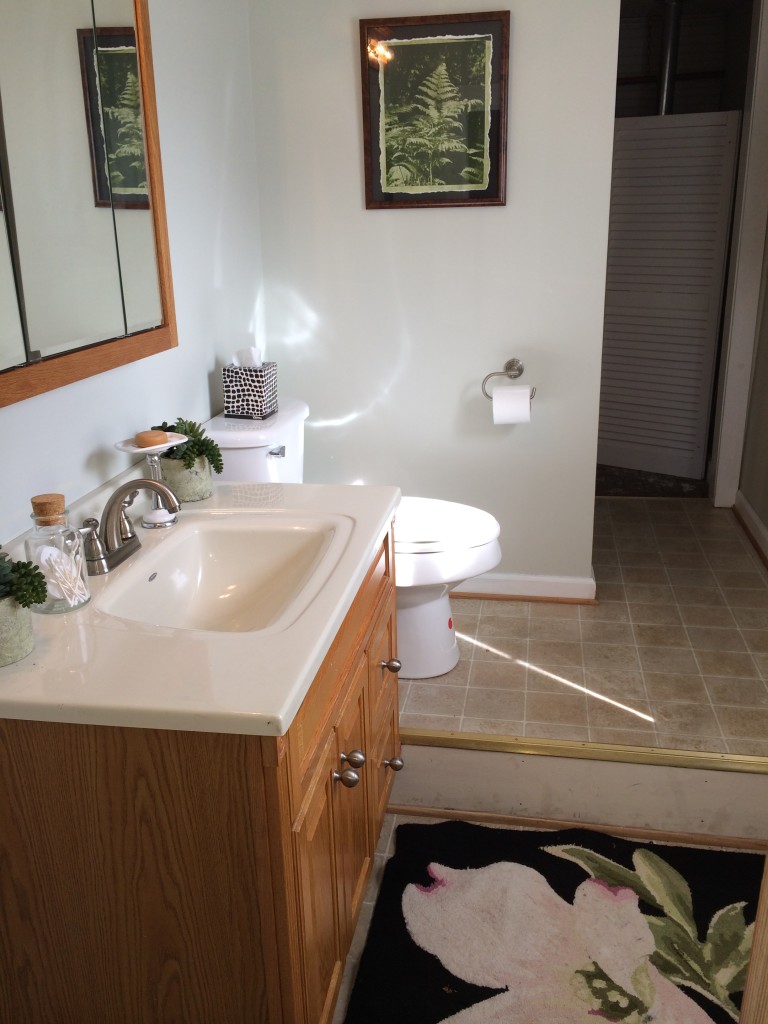 All that in a mere 523 square feet – it's a must see. This wood frame building is over 140 years old. The interior has been nicely remodeled and well maintained. The building was originally built in 1870 and served as an office for Elkin Manufacturing Company. In 1916, it became the Elkin & Alleghany Railroad Office. In 1937 it became Elkin's first public library. After that, it became Elkin's first telephone office.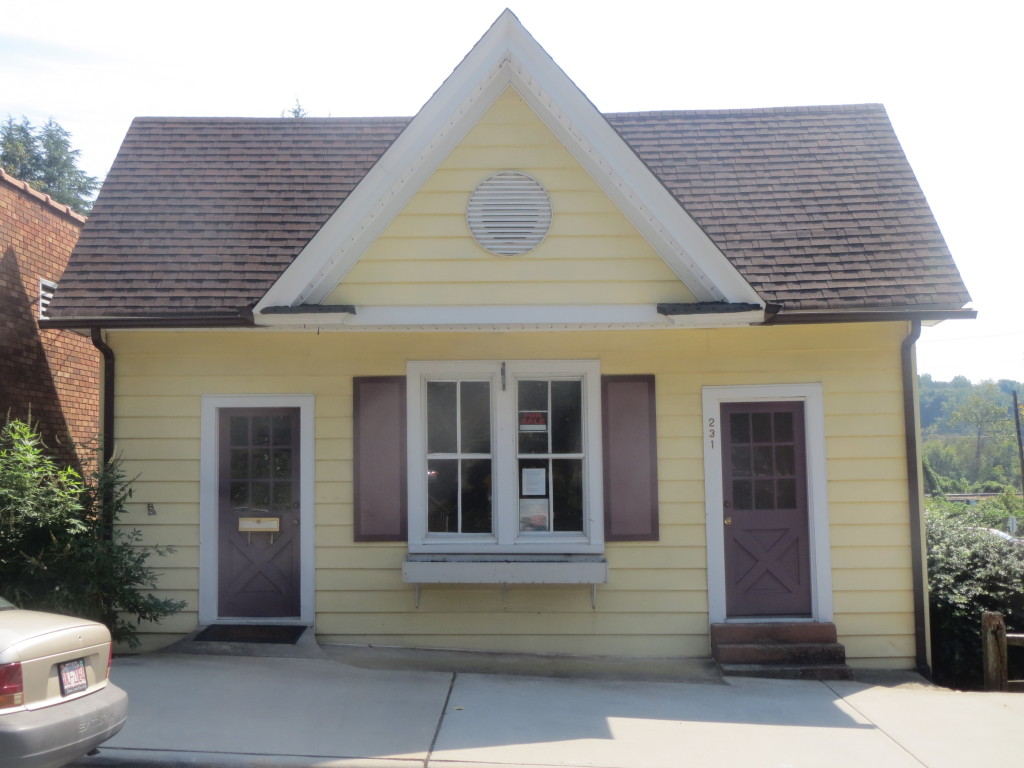 Find out more about the listing at underdownball.com. Look for an open house event coming soon.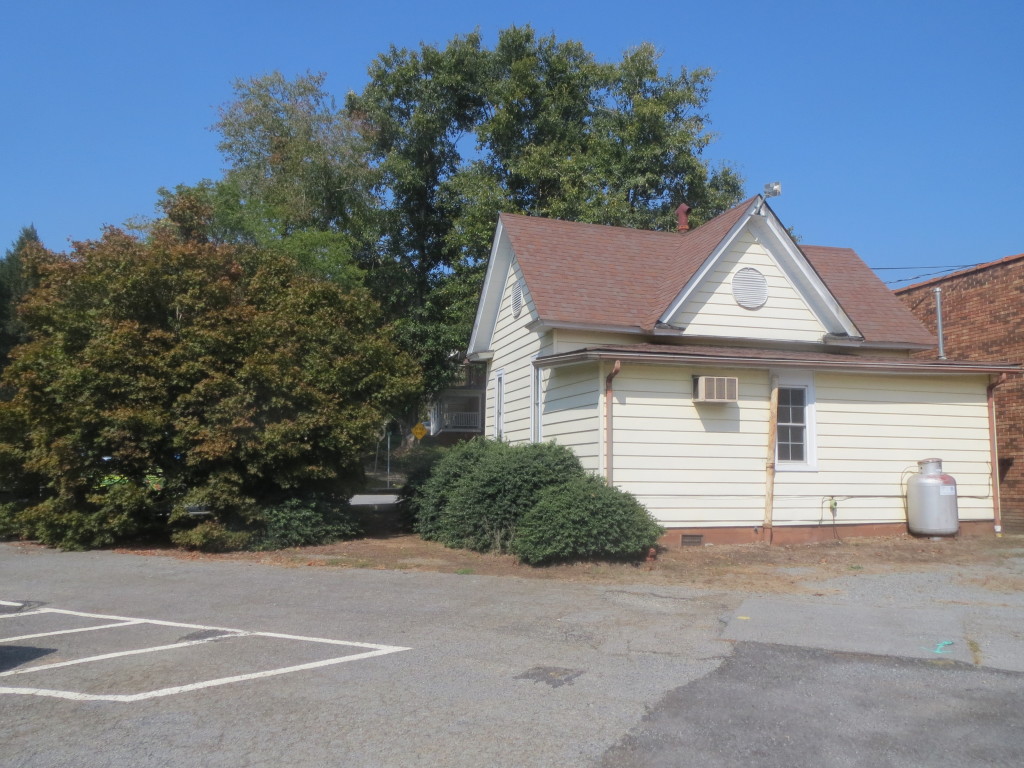 I'D MAKE A GREAT…OUTFITTERS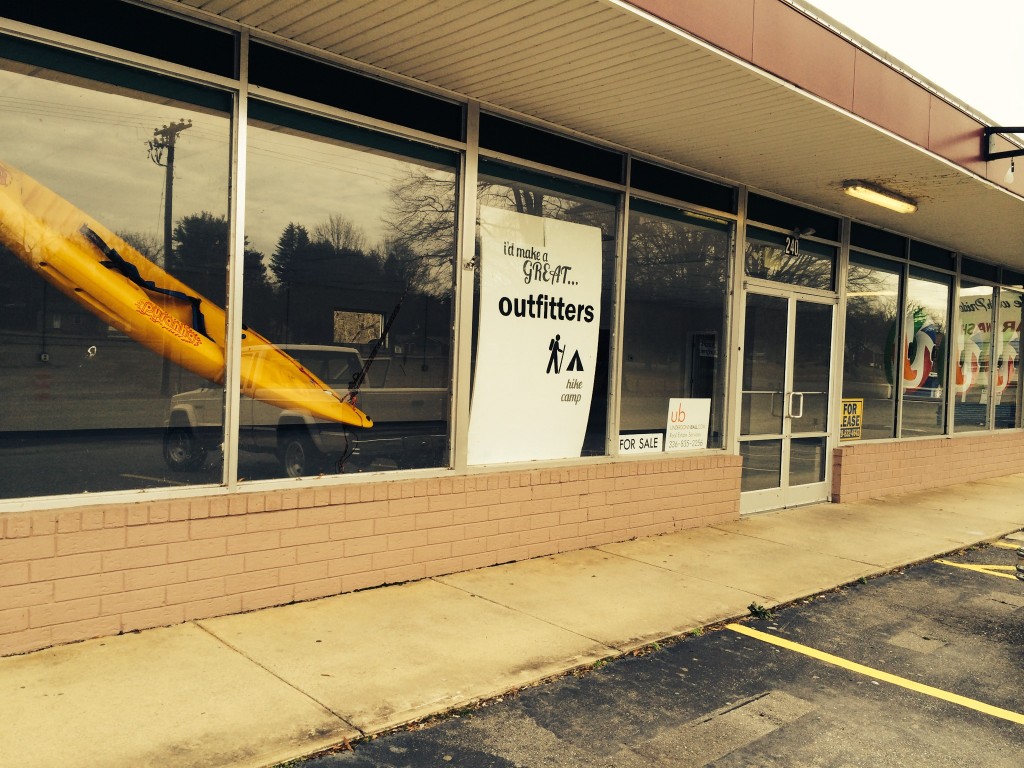 240 Standard Street now features "I'd make a GREAT…outfitters" scene with a cheery yellow kayak (thanks, Gulleys) and a grouping of multi-colored inner tubes – ideal for a paddle on the near-by Yadkin River.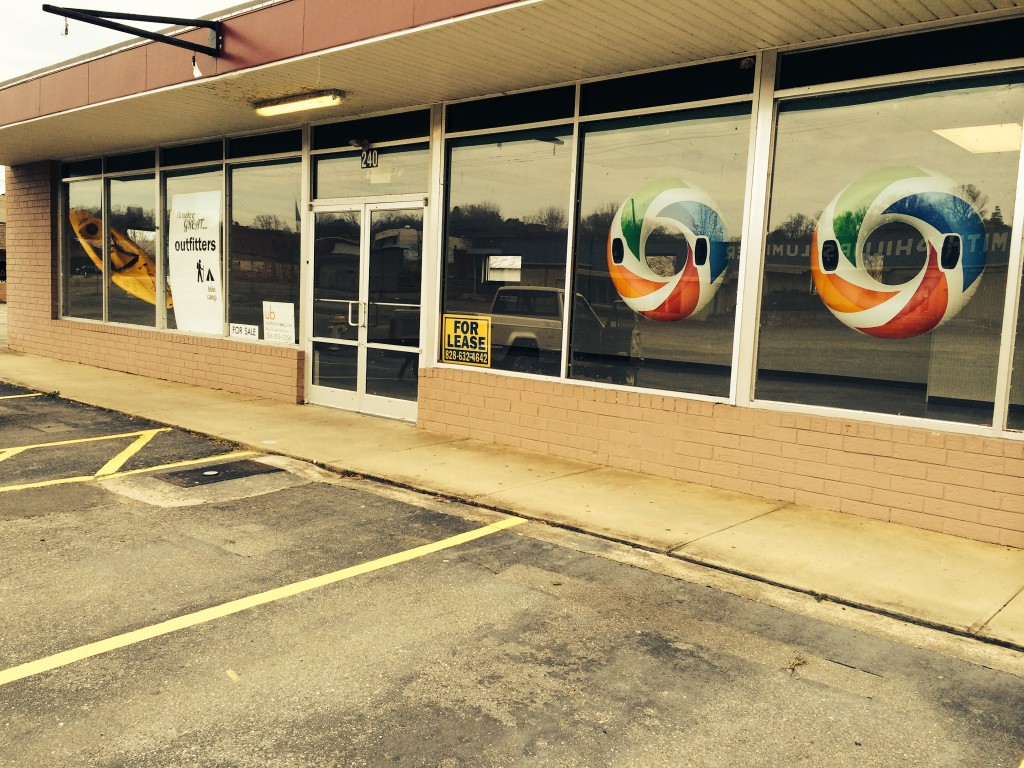 This building is currently for sale along with the neighboring self-serve car wash at 230 Standard Street for $260,000. What a great combination – get your gear at the outfitters, go play on the river, and when you're done, wash off yourself, your toys, your dogs, your kids and your car at the carwash. Both buildings are also located directly across from the proposed Heritage and Trails Center in historic downtown Elkin.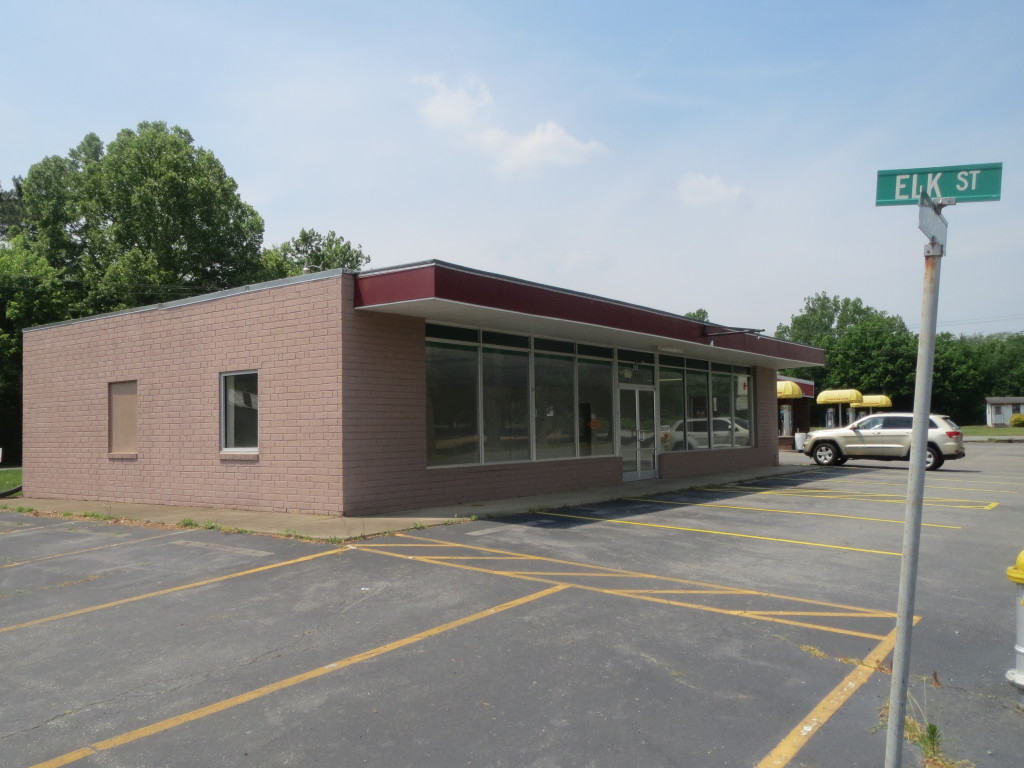 240 Standard Street is a newly renovated building measuring ~1,920 square feet. Zoned commercial, it would make a nice retail space or office building. Built in the 1960s, the exterior of the building has a mid-century look with clean lines and simple layout. The interior has new floors, electric heat pump and new restroom.  With a full wall of windows, the building has lots of natural light, making it nice and bright.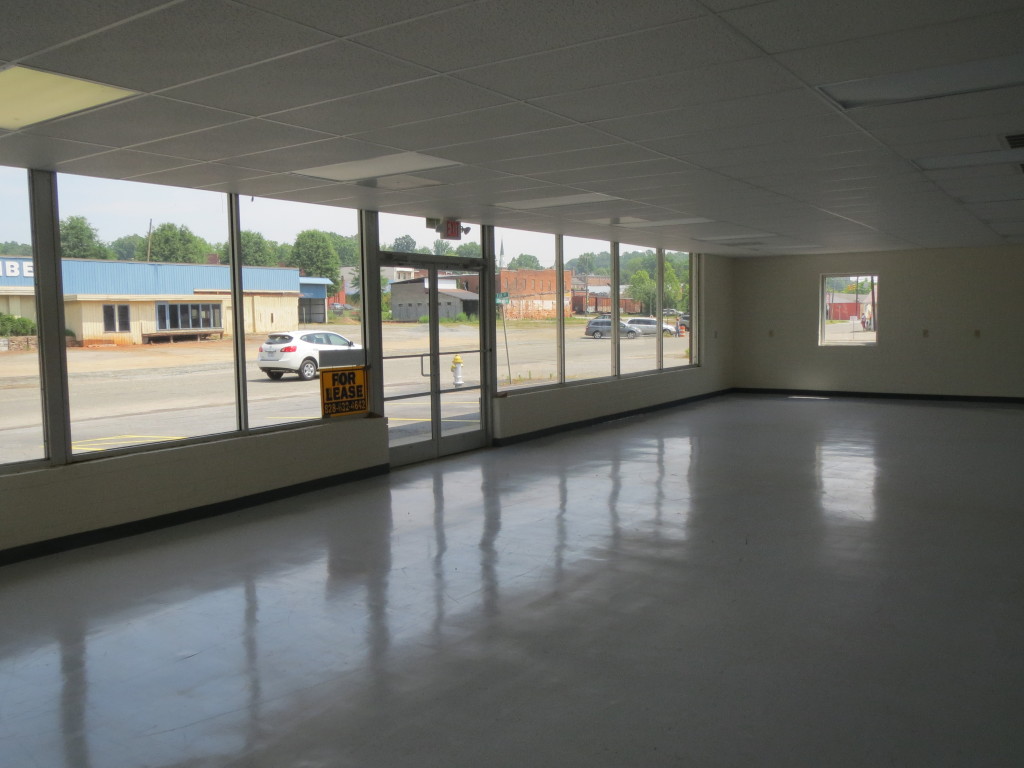 230 Standard Street is home to a self-serve car wash built in the early 1980s. Measuring ~2,790 square feet, it features seven car wash bays, three vacuum islands and change machines. It's an income producing opportunity.